(VIDEO: AZPM)
HOPE can be a lively place.
At HOPE, Inc., an outpatient treatment center in Tucson, people drop in for breakfast, organize community meetings and even host an occasional talent show.
Listen to the radio version:
It's almost incidental that everyone who visits or works here, including CEO Dan Haley, lives with a mental illness.
"From the myself to the janitor, we are people living with a mental illness," Haley said. "I have a diagnosis of major depressive disorder, and I'm also a recovering alcoholic. I've been clean and sober for 22 years."
HOPE began in the early 1990s, as a series of informal coffee shop get-togethers that brought people living with mental illness together to hang out and share their stories, Haley said.
The word spread, and the get-togethers grew. Since then, HOPE has grown into an established peer-run center that saw more than 3,800 people in 2012 alone.
Most of HOPE's members have limited means, and that's not unusual. Data from the Substance Abuse and Mental Health Services Administration show that serious mental illness is most prevalent among those with the lowest income levels, and it's a leading cause of homelessness as well.
When enrollment in AHCCCS, the state Medicaid system, froze and the state behavioral health program cut most of its services, people living in or near poverty with a mental illness were the most affected. Many turned to HOPE to find the care they needed.
"We were fortunate that...(the Community Partnership of Southern Arizona, the regional behavioral health authority) felt the need to keep those people engaged, so they funded a position for us to work with that population, and they formed their own volunteer-run force," said Haley. "They independently ran their own groups, so that they wouldn't lose that piece of their recovery."
HOPE supported the volunteer effort because it recognizes the vicious circle that poverty and mental illness can create, Haley said.
"Either they're on very low income or they're on a fixed income ... and so by the time you pay for your housing, your bus pass and your food, it leaves very little," he said. "Living with a mental illness and not having a lot of resources, you're at the mercy of the AHCCCS program, which offers a great benefit, but it's still not a private insurance."
Christina Jasberg knows what it's like to live at the mercy of the state's behavioral health system. She has struggled with schizoaffective disorder and self-harm since her early 20s.
"I cut myself for the first time one night, and...from there it's like a blur," Jasberg said. "I've been in (more than) 80 different hospitalizations in psychiatric facilities."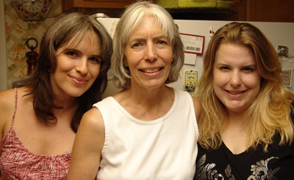 Christina Jasberg (far right) says her family's support has been critical throughout her life in recovery from schizoaffective disorder. (PHOTO: Courtesy of Christina Jasberg)
Unable to work, Jasberg survived on Social Security benefits with her parents' help, and relied on the state system for care. Then, after years in recovery, she chose to enter the workforce.
When medical issues forced her to stop working again two years later, she faced Arizona's new landscape of care. With changes to the AHCCCS system, Jasberg now made too much money from her disability benefits to qualify for the services she once had. Most importantly, she lost coverage of a medication that was critical for managing her condition, and began to spiral out of control.
"My rage was so much that I was either going to hurt myself or someone else," Jasberg recalled. "In the end, I chose myself. I took a large overdose and wound up in the ICU for 4 days. I almost lost my life because I didn't have the medication I needed."
The medication cost nearly $1,000 a month, far more than Jasberg or her family could afford.
Eventually, they were able to locate a generic version of the drug, only available in Canada, at a tenth of that price, Jasberg said. But, for Jasberg's parents, who are retired elementary school teachers, it's still a hardship.
"I wish they could have better for themselves," Jasberg said. "they've helped me throughout my life with my own recovery, And a lot of people don't have anybody."
Now, Jasberg is preparing to return to school, and currently works at HOPE, Inc., where she coaches others in recovery. She also blogs about her experiences, and has been profiled on the podcast series The JV Club.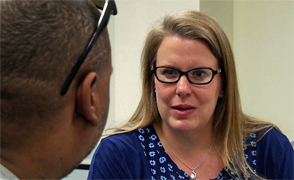 Christina Jasberg coaches others in recovery at HOPE, Inc.
Jasberg has become a passionate advocate for a state system that helps people with scant resources, like her, have a chance at a better life.
"I've seen it over and over...people get well, but they need the support to be there, and part of it is economical," Jasberg said. "If we want people to strive...want to be part of society and...better their lives, we have to give them a good base, a solid foundation to start from."
At HOPE, Haley said he works to build a part of that foundation every day, and he starts with a sense of purpose.
"People need to feel like they have a purpose," he said. "And, it's corny, but they need to have hope. I used to say when I first got here, 'we offer you hope until you can find it.'"
And, while hope may not be able to end all poverty or heal all wounds, Haley said it can go a long, long way.
This story is part of Arizona Public Media's week-long series on poverty.