Esther Bracker Capin, who served as president of the Arizona Board of Regents during two eight-year terms on the board, died of cancer Sunday in Tucson, University of Arizona officials reported. She was 78.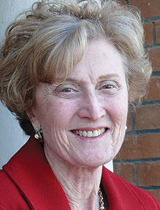 PHOTO: UA College of Social and Behavioral Sciences
Esther Capin, former president of the Arizona Board of Regents.
Ms. Capin served on the Board of Regents from 1978 to 1994, including as its president in 1982 and 1991.
She was active in civic life, first in Nogales where she and her late husband, Richard L. Capin, reared five children, and later in Tucson. She served on several advisory boards at the UA.
Ms. Capin chaired the board of directors of the UA Medical Center during its transition from public to private, non-profit status and continued to serve as a board member until her death. She was the founding chair of the Arizona Advisory Committee on Health Education Centers.
Her husband was a member of a prominent Nogales business family, with several retail businesses dating to the 1920. Included was Capin Mercantile Corp., founded in 1949.
She dropped out of undergraduate classes at UCLA to marry in 1955 but vowed privately to return to school. She did so in 1975, enrolling at the UA to complete a bachelor's degree in psychology and a master's of education in counseling and guidance.
Information on survivors was not immediately available.
Services will be Wednesday at 11 a.m. at Temple Emanu-El in Tucson.