Listen
The Tucson Unified School District has approved culturally relevant curriculum for English classes, but the Arizona Department of Education has concerns with the move.
Last week, on a vote of 3-2, the TUSD Governing Board approved curriculum for high school elective courses that teach literature through Mexican American and African American perspectives.
In late May, TUSD submitted curriculum for English, history and government courses to the state, said Kristen Landry, a state education spokeswoman.
The state reviewed the curriculum and returned it to Tucson Unified with required changes. The district then sent back the revised curriculum for history and government, but not for the English courses, Landry said.
"TUSD's governing board approved the English curriculum and we have not seen it," Landry said. "We don't know if the curriculum has been changed, if it meets the standards."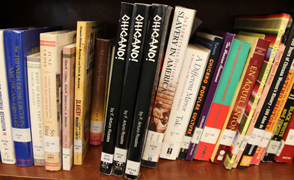 PHOTO: Fernanda Echavarri
Books from TUSD's defunct Mexican American Studies classes
The state reviewed the curriculum for compliance with state standards, specifically the Common Core standards. The materials also must comply with a state law under which TUSD's Mexican American Studies classes were shut down in 2011.
TUSD is under a federally mandated desegregation order that includes a requirement that it offer culturally relevant courses as electives in high school.
The state is reviewing the revised curriculum for government classes and expects to send it back to TUSD soon, Landry said. The history curriculum will not be back in the hands of TUSD until late July because, "there are still issues with that," she said.
The English curriculum was developed by dozens of experts from more than 20 universities across the United States, TUSD officials said.
In a statement on its website, TUSD explained its point of view on the state curriculum review, saying, "The Arizona Department of Education does not approve curriculum for the state's school districts, but was approached by TUSD to provide guidance and feedback before the curriculum was presented for public review."
"In addition to reviews by state and national content experts, the Arizona Department of Education reviewed the classes to ensure alignment to the state's rigorous Common Core Standards. An initial assessment by the ADE indicated the need for further work on the curriculum to strengthen Common Core Standards. The curriculum team rewrote the content, incorporating the ADE's directions."