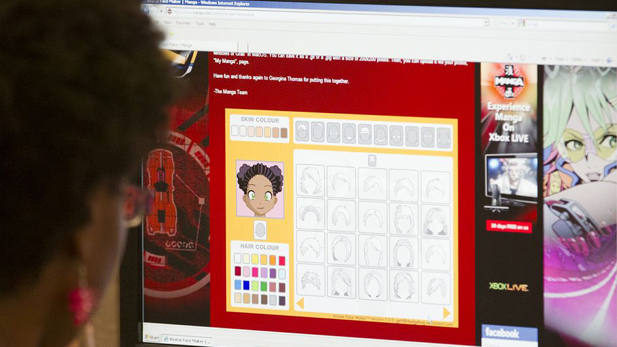 A young reader visits a manga-inspired website using a Pima County Public Library computer (PHOTO: Pima County Public Library)
Listen to the complete July 19th, 2013 edition of Arizona Spotlight:
The U.S. Census Bureau has determined Tucson to be the sixth poorest large city in the country. In response, Arizona Public Media presents a week-long series of stories called Getting By: Living Between the Poverty Lines, focused on poverty and the many factors behind it. That coverage continues on this week's Arizona Spotlight:
Homeless Veterans Initiative
Statistics say that veterans are far more likely to be homeless than other Americans. While vets make up less than eight percent of the population, the federal government estimates that they constitute 16 percent of all homeless adults. As Andrea Kelly reports, the city of Tucson has set a goal to end veterans' homelessness by 2015. The mayor and others say that won't be easy, but it is a goal that is within reach...
Rural Health Care Dilemmas
Another factor contributing to our state's poverty rate is the high cost of health care.
Health care expenses are one of the top causes of bankruptcy nationwide. Coupled with cuts to programs designed to help the poor, the result is a recipe for financial disaster -- especially in rural areas. Christopher Conover reports…
Same-Sex Marriage Reactions
More than 50 percent of all marriages in the United States end in divorce, and a sizable segment of our population is making the decision to postpone - or even forego - marriage altogether. However, for some Arizona residents, being able to enter into a legally-recognized union is an amazing development — and one that many had thought they might never see. Tony Paniagua explains...
Pima County Public Library's "MangaMania!!" Convention
In Japan, comic books are taken more seriously as both an art form and as popular entertainment. The proof lies in the huge number of titles that can be found at almost any newsstand or grocery store in Japan. Besides super heroes and giant robots, there are long-running manga series that center around everything thing from soap-opera, to history, to cooking, business, and sports. It's an industry that's valued in the billions, and that popularity has already spread to many other parts of the world.
Here at home, the Pima County Public Library has been offering manga collections for readers of all ages for more than a decade. The dedication that some fans show for their favorite titles inspired Electronic Resources Librarian Jennifer Caldwell to organize an annual MangaMania!! Convention, happening on Saturday, July 27, 2013 at the Pima Community College Downtown Campus. The gathering provides a chance for local fans to share their manga enthusiasm, and also to learn more about Japanese art and culture. Mark McLemore talks with Jennifer Caldwell and Teen Librarian James Walter to find out more...