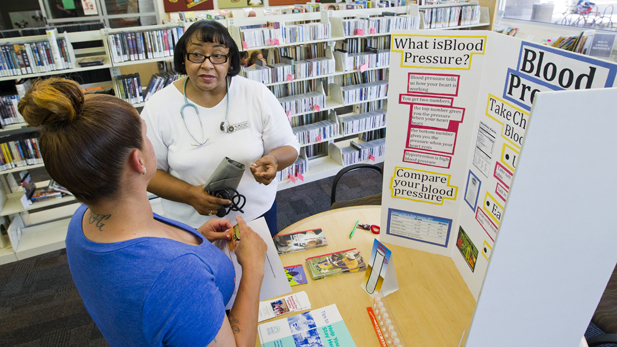 Pima County Public Library has nurses at 11 of its 23 branches. (PHOTO: Pima County Communications)
Listen:
The Pima County Public Library received an innovation award for having nurses in 11 of its library branches.
The award, from the Urban Libraries Council, recognized Pima County for adding health and wellness to its community services available at libraries.
Each year, the council awards 10 libraries for innovative programs.
The Pima County Library System's nurses program is a partnership with the Pima County Health Department, and the nurses are public health nurses, said Karyn Prechtel, a deputy director of the Pima Library system.
In addition to providing health information, Prechtel said, the program has also reduced the number of times library branches have called 911.
The program varies according to branch needs, she said.
"Some of our libraries with the greatest need, we actually have set hours where a nurse is available," Prechtel said. "For example, here at the main library we actually have a nurse about 20 hours a week."
The library system tries to keep the nursing staff consistent.
"The Woods Library always has a visit from the same nurse," Prechtel said. "He (the nurse) gets to know the community, the clientele, and the staff. They work together really well because of that consistency."
It's not uncommon for library systems to have social workers, but Pima County won the innovation award because it's the only library system with public health nurses on site, Prechtel explained.