Listen
As students across Pima County prepare to start a new school year, homeless youth struggle to find basic supplies for the first day of school.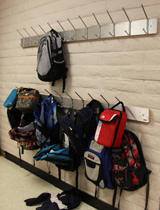 (PHOTO: Fernanda Echavarri)
"Our population of homeless youth face severe challenges when it comes to education," said Faith Carrabis from
Youth On Their Own
, a nonprofit organization that helps homeless youth graduate from high school through financial assistance and guidance.
An estimated 4,000 youth are homeless in Tucson and Pima County, she said, not including those who are in foster care.
Last year Youth On Their Own served about 1,100 youth, which was a 60 percent increase from 2011.
"We fully expect to serve that number this year," Carrabis said.
The nonprofit's donation drive is collecting school supplies and backpacks for homeless youth to use in the upcoming academic year.
To donate go to Youth On Their Own's website.