(VIDEO: AZPM)
A two-mile stretch of East Broadway Boulevard, between Euclid Avenue and Country Club Road, is home to many buildings that symbolize a specific time in Tucson history: the middle of the 20th century.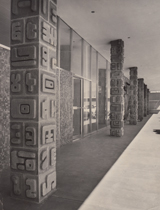 Boulevard Shops (PHOTO: Tucson Historic Preservation Foundation)
Now, that two-mile segment is just a small stretch of the metro area, and a short span of a long street. But it remains a key entryway to downtown from the burgeoning east side.
"Broadway was a really important corridor that connected downtown to the East Side," said Demion Clinco, the president of the Tucson Historic Preservation Foundation.
That connection between the business core and the residential outskirts served as a seque of stores selling all kinds of goods, from cars to shoes, Clinco said. The structures housing those businesses represent an iconic collection of mid-century modernist architecture, he said.
"Along Broadway, all of these stores emerged that were built in this wonderful eclectic style," he said.
In 1953, a public contest to name the corridor brought "The Sunshine Mile" to Tucson.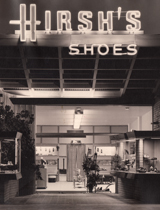 Hirsh's Shoes (PHOTO: Tucson Historic Preservation Foundation)
Notable buildings include: - Chaffin's Diner: formerly Sambo's Pancake House, built in 1964, designed by William Bergquist, in a space-age style. - Boulevard Shops: local architect Nicholas Sakellar designed them in 1958. They are open front, cantilever with artful end panels. - Hirsh's Shoes: Bernard Friedman designed it in 1954, it "opens up to the street and invites the customer to walk into the store before you actually walk in the front doors." - Chase Bank: Also designed by Bernard Friedman, about two decades after he designed Hirsh's. The sculpture on the exterior of the bank "elevate the building from architecture to art."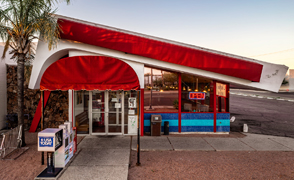 Chaffin's Diner (PHOTO: Jude Ignacio and Gerardine Vargas)
The corridor is on the list of roads set to be widened as part of the Regional Transportation Authority's 20-year, $2 billion construction and road maintenance plan.
"Now there is a community conversation about what the future of this street will be," Clinco said. The plan could demolish some of the buildings, and is facing organized opposition from some area residents and businesses.
The Arizona Preservation Foundation named the roadway one of most threatened areas in the state in 2012.