Genetic Testing:
(VIDEO: AZPM)
When patients come to see genetic counselor Gail Martino, they're often fearing the worst.
They come to her with family histories haunted by cancer, and she helps determine if their genes may be to blame.
Listen to the radio version:
"My job is to meet with families or patients, and to take info about their family history to try to assess whether or not they're at risk for various hereditary cancer syndromes," Martino says, who serves patients through the University of Arizona Cancer Center.
Genetic counselor Gail Martino guides patients and their families through the process of genetic testing.
Just a few decades ago, these families would have had few answers or options. But, now, a simple blood test or cheek swab can identify the genes or gene mutations that can create this potentially deadly risk.
The process begins with a kind of family tree: a complete history that helps Martino determine if the patient is a good candidate for genetic testing. She looks for certain tell-tale signs: individuals in multiple generations of the family developing the same cancers; individuals developing cancer at younger ages than in the general population; or families with multiple cases of uncommon cancers, such as ovarian cancer.
Martino then counsels patients on the pros and cons of testing, and there are many to consider.
Testing can help patients assess their risk and develop a plan for prevention, and it can help doctors choose the best possible treatment for those who are already sick.
But, testing can be costly and isn't always covered by insurance plans. And, in many cases, it doesn't offer the clear-cut prediction most patients want.
Take the BRCA 1 and BRCA 2 genes, for example. These genes normally help prevent cancer, but a mutation in either one can keep it from working properly, leaving its carriers at risk. Tests can show if someone carries the mutation, but they can't predict whether they'll develop cancer.
Gene Patenting:
(VIDEO: AZPM)
"So, for instance, for a female who has a BRCA1 or 2 mutation, her lifetime chance of developing breast cancer specifically is anywhere between 84 to 87 percent—very high, much higher than the 12 percent we would quote for the general population, but not 100 percent," Martino explains. "We still see women who carry the mutation who, for whatever reason, never develop breast cancer."
That leaves patients in the difficult position of having to make life-changing decisions based on risk, not certainty.
This is where Emily Irwin, a human resources director for a national company, found herself after nursing her mother through cancer. Her mother's physicians suspected she might carry a BRCA 1 mutation.
"She got tested ... and found she was a BRCA1 mutation carrier," Irwin says. "And so I got tested in August of that year and discovered that I, too, am BRCA 1 mutation positive."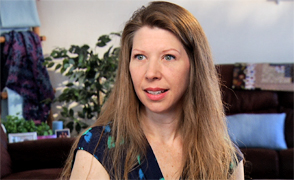 Emily Irwin learned she carries a genetic mutation that leaves her at considerable risk for certain cancers, and chose to undergo risk-reducing surgery.
Faced with a high risk of breast and ovarian cancer, Irwin weighed options that included risk-reducing surgery, drug treatments and frequent checkups. Ultimately, she chose a preventive total hysterectomy—the removal of her ovaries, fallopian tubes, uterus and cervix, which would also greatly reduce her breast cancer risk as well.
Irwin says that, given her risk, surgery felt like the obvious choice for her, but it still wasn't easy.
"There's a finality, there's a door that'll always be closed as far as ability to have children, and that's tricky," she says. "Even for ladies who've had a lot of children, that's tricky. (But,) every time I would start to get whiny and complained and scared, I would say, 'this is nothing compared to what your mother went through'...And I got through it."
The UA High-Risk Cancer Clinic coordinated Irwin's care, and it will continue to monitor her as she recovers.
It's a multidisciplinary team of genetic counselors, including Martino, and physicians and scientists who work closely with their patients to provide complete, holistic care, says Dr. Setsuko Chambers, who helps lead the program.
"We are able to give comprehensive care of these women from the start to the eventual outcome, so we do the diagnosis, the workup, the entire management, the surgery, we do the chemotherapy, and then we see the patient for years afterwards," Chambers says. "So, it's a very satisfying field. It's difficult, it's not simple, but it's very satisfying."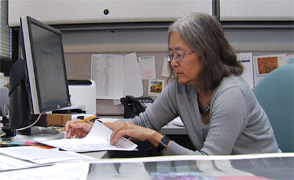 Researcher and physician Setsuko Chambers leads the UA Cancer Center's Division of Women's Cancers, where she has helped create a more comprehensive approach to cancer treatment and prevention.
Irwin says the team's commitment to comprehensive care gave her comfort and courage as she made a difficult decision, one she's now very glad she made.
"I think it's important that my nieces and nephews don't have to watch another relative fight cancer and possibly die from cancer," she says. "I think that's a huge gain."
As access to genetic testing grows, more and more of us may have a chance at those gains, Martino says.
"We're probably moving toward a time where instead of doing all these individual genetic tests...it'll move to an area where people have whole genome sequencing, where we take a blood sample and sequence their entire genome, and can tell them different disorders they could be at risk for and different things they should watch out for," she says.
But, interpreting what the genome reveals is still a tricky business, one that experts haven't mastered, Martino explains.
"Right now, we have the technology to do these things, but we don't necessarily have the know-how to interpret everything," she says.
So, while each of us may soon get a glimpse of our future, it may be a while before we understand what we see.
Personalized Medicine:
(VIDEO: AZPM)