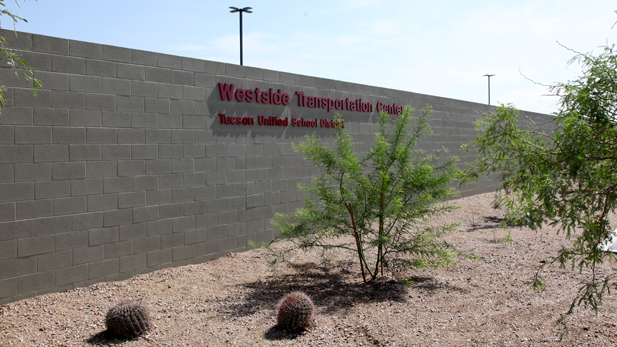 PHOTO: Fernanda Echavarri
Tucson Unified School District's Westside Transportation Center
Listen
A new school bus center was dedicated on Pascua Yaqui Tribal land on Tucson's southwest side Wednesday. Tucson Unified School District officials said it will save $700,000 a year in fuel costs and driving time.
The Westside Transportation Center, 4750 W. Jeffrey Road, cost about $5 million and was the last project in a $235 million dollar bond package approved by voters in 2004.
Despite having empty seats in many schools, leading the district to close some, TUSD has had enrollment increases for schools on the southwest side.
To accommodate them, buses had to be driven from central Tucson to the Pasqua Yaqui reservation to pick up children, said Candy Egbert, TUSD's chief operations officer.
Now, buses from the new transportation center will travel less, the district will spend less money on fuel, and there will be more efficient bus routes, she said.
The savings figure comes from calculations based on buses traveling about 475,000 less miles each year and a cutback in driver hours by more than 30,000 a year.
"This is the result of a partnership between TUSD and the whole community," said Francisco Munoz, Pasqua Yaqui Tribe treasurer.
It took years to find the right location because it had to meet the needs of TUSD and be a positive addition to the area, TUSD officials said.
"TUSD finished the project and finished it on time and under budget," said Earl Mendenhall, chair of the bond fiscal oversight committee.