In the late 1800s, the town of Yuma was a hotbed of activity.
On the California side of the Colorado River sat Fort Yuma. On the Arizona side was the Yuma Territorial Prison, the first such detention facility in the Arizona Territory, and the Yuma Quartermaster Depot, used to supply military posts throughout the region.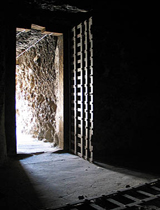 PHOTO: Arizona State Parks
A "dark cell" at Yuma Territorial Prison State Park, used in the late 1800s for solitary confinement.
Today, both the prison and depot are Arizona state parks.
The Yuma Crossing National Heritage Area runs the parks as part of a joint partnership with the state and the city of Yuma. According to the organization, it is "working with Arizona state parks, City of Yuma and our many community partners to ensure the long-run sustainability of the two state historic parks in Yuma."
The group submitted a draft master plan to the Yuma City Council last week to redevelop part of Yuma along the Colorado River.
For the parks, the plan calls for making numerous facility upgrades, increasing preservation efforts of historic buildings, and identifying attractions that can make money, such as restaurants or concessions. The Yuma Quartermaster Depot would get a complete facelift.
Under the proposal, it would be renamed the Colorado River State Historic Park, and feature new exhibits examining both the history of the river and its questionable future.
Charles Flynn, executive director of the Yuma Crossing National Heritage Area, said the depot gets far fewer visitors than the Yuma Territorial Prison.
"We had to do more radical surgery on the Quartermaster Depot. Because it simply ... has never had any of the market appeal of the prison."
He added that the visitor's center and exhibits at the depot are already telling some of the river's story.
"The fact that you had steamboats coming up the Colorado River. If you look at the Colorado River now in Yuma, you could never imagine a steamboat. It would never make it through the Gulf of California, with the shrinking of the Colorado River."
The story also includes how the river was tamed, through dams and canals, to reduce flooding and promote agriculture. And then there's the river's questionable future. Flynn said he envisions the new park eventually being used for conferences about the river's health.
A master plan is in draft form, and subject to public comment. A final plan will be issued next year.
More resources:
Arizona State Parks Yuma Quartermaster Depot site
Yuma Territorial Prison State Park site

Read the draft of the Yuma Crossing Heritage Area master plan: View at Google Docs | Download File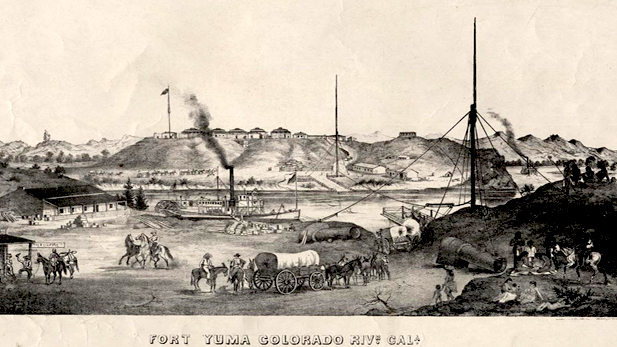 A lithograph , circa 1875, of Fort Yuma (on hill) and steamboats on the Colorado River.