AZPM
American society has come a long way in tolerance but needs conversation and a plan of action to renew a push for equal treatment and acceptance, a panel of educators said Friday.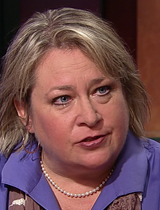 Kelly Fryer, executive director, YWCA Tucson. (PHOTO: AZPM)
Four people from diverse perspectives and experiences with race, ethnicity and degrees of societal tolerance addressed the issues in the wake of the Trayvon Martin case and President Barack Obama's call for dialogue. The panel appeared on Friday's Arizona Week broadcast.
"I think some of us took it for granted that we were farther along than we really are," said Kelly Fryer, executive director of the YWCA Tucson. "It's time to have a serious conversation and to take action to make sure these things get changed."
Professor Raquel Rubio-Goldsmith, who teaches in the Department of Mexican American Studies at the University of Arizona, agreed and said that the nation's political and legal institutions come from what she called "a white perspective."
"It is so embedded in our law," Rubio-Goldsmith said. "All the systems of law are embedded with what is called a white perspective. So, then we have these travesties, these horrible violations, because a law is made to look at it solely within a white perspective, as if race does not exist. But the reality is that racism and discrimination based on race, racial profiling does exist."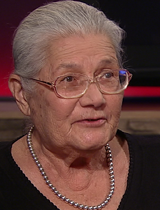 Raquel Rubio-Goldsmith, lecturer, Mexican American Studies, University of Arizona. (PHOTO: AZPM)
A third panelist, former Tucson City Councilman Charles Ford Jr., said those in authority need to be held accountable so that the system keeps moving forward.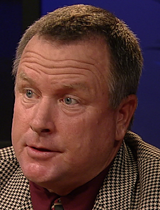 Jeff Lavender, chairman, Arizona Civil Rights Advisory Board. (PHOTO: AZPM)
"I think we need to ensure that our elected officials and other folks in power positions are held responsible," said Ford, the only African-American ever elected to the City Council. "And we have to talk about some of these problems."
Jeff Lavender, chairman of the Arizona Civil Rights Advisory Board and a middle school principal in Casa Grande, said following the lead of children and then making certain they continue on an open-minded path are key steps.
"I believe the students of today are much more accommodating in understanding the differences," Lavender said. "When you go into a kindergarten classroom, you normally see students of all races talking together. And then by the time they're seniors in high school, you see much more segregated campuses. So over time, students are learning some of these things. It's our job as educators to develop relationships, because I believe it all starts with relationships."
Ford, who is retired but remains active as a board member of the Dunbar Coalition, said change won't occur naturally, but rather has to be part of a strategy.
Charles Ford Jr., former Tucson City Council member. (PHOTO: AZPM)
"We have to have a scheme, a plan on how we are going to move some of these things ahead," he said. "I think what has happened is we have moved a certain amount over the years. But we have sort of backed away from our responsibility of ensuring that every person, regardless of color, regardless of language, have the same opportunity to succeed as everyone else in society."
Fryer agreed, saying that gaps in society are driven by political and legal institutions, and change must be focused on them.
"It's hard not to look at the gaps that exist - the wealth gap, the education gap, the employment gap that exists between people of color, that exists between men and women - and not have to conclude that there's something's going on here that's really institutionalized," Fryer said.
Rubio-Goldsmith said she sees a lot of positive movement, including the fact that such issues are being discussed.
"One of the positive things that I always remind myself of is that we have had the courage in this country to confront these issues as a society, not perfectly, with a lot of imperfection," she said. "But the fact that we're sitting here today talking about it is a sign that we're committed. But I think we have to go beyond talk, to action."