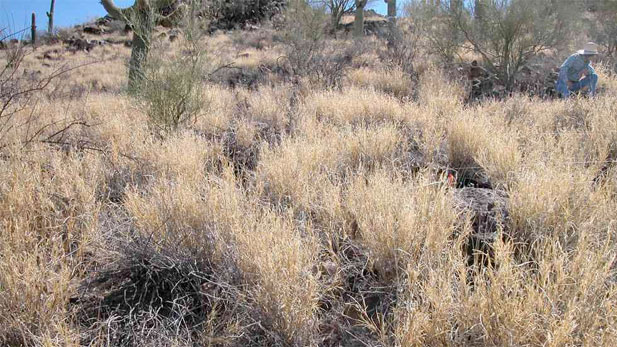 PHOTO: Travis Bean
Buffelgrass on Tumamoc Hill in Tucson.
Listen:
Pima County wants to rid open-space areas of buffelgrass, because it catches and spreads fire easily, and can crowd out native plants. But the county has found that an effective method is too expensive to pursue.
The county tested a method for getting rid of the invasive species on a large scale in 2010. It worked with the National Park Service, the Forest Service and the Southern Arizona Buffelgrass Coordination Center to use a helicopter to spray one-acre plots of rugged land with an herbicide.
The agencies wanted to see how well that application would work to rid steep terrain of the invasive grass, said Kerry Baldwin, the county natural resources director.
In the years since the application, the agencies revisited the spray areas to check the buffelgrass and native species. The spray stayed within the one-acre plots intended, and didn't adversely impact native plants, Baldwin said.
"It pretty much proved to us that it is a viable mechanism where we've got a situation where it's too rugged and steep for people to get in and hand spray, or where we're talking about large acreages at one time that might need to be sprayed," he said.
Despite the positive results, the county is not considering using aerial spray to get rid of buffelgrass because it is too expensive, Baldwin said.