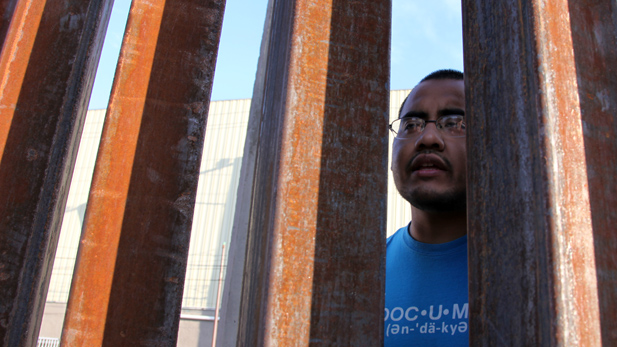 Marco Saavedra, 23, at border fence in Nogales last month. His asylum request was pending. (PHOTO: Fernanda Echavarri, AZPM)
Listen
The Homeland Security Department has tentatively approved asylum requests for seven of nine "dreamers' who left the country and attempted to re-enter last month at Nogales.
They were granted tentative asylum Monday after citing a credible fear of persecution should they return to Mexico, Homeland Security reported. A decision is pending on two others in the case.
An immigration judge will have the final say, but such a ruling could take years.
"Now we're going to see them hopefully in the next couple weeks out on the street," said Mohammed Abdollahi, an organizer for the National Immigrant Youth Alliance, "and three weeks ago, that's not something any of them would have imagined."
The young adults crossed into Mexico at various times as part of a protest of U.S. deportation policies.
The seven are likely to be released from detention in Arizona and could be eligible for work permits.
They are called "dreamers" after the DREAM Act, proposed by President Barack Obama and a part of the U.S. Senate-passed immigration reform proposal. It would give permanent legal residency to those brought illegally to the United States as children by their parents.
Last year, Obama issued an executive order deferring deportation for such young people who met certain conditions, including completion of high school or service in the U.S. military.
Asylum for Mexican citizens is rare.