Listen
Pima Community College took a step toward ending probation Tuesday when its accrediting agency accepted the school's first plan for improvement.
Pima reported in an emailed press release that the Higher Learning Commission approved the college's 73-page plan to improve operations in two key areas, how it handles complaints and grievances and faculty oversight of curriculum.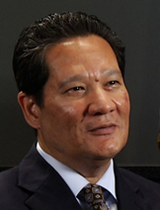 PHOTO: AZPM
PCC Chancellor Lee Lambert.
"The HLC's acceptance of the monitoring report is unequivocal good news," Pima Chancellor Lee Lambert wrote in a message to PCC employees, according to the press release. "It is an indication to students, the public and PCC employees that the college is on the right course as it works to regain the fullest confidence of the community and the HLC."
The commission in April put Pima on probation of up to two years after numerous complaints that the administration and Board of Governors ignored complaints from faculty and staff and were unresponsive to the public. The outcry began toward the end of Roy Flores' tenure as chancellor.
Flores took medical leave and then retirement last year after a series of complaints against him of sexual harassment and harsh treatment of subordinates and questions about some of Pima's finances.
The five-member Board of Governors, which is elected, was put on notice that it had not responded to campus and public complaints and was out of touch with the college's operations. As part of the school's efforts to have its probation lifted, the college is putting board members through trainings and orientations aimed at improving their involvement and awareness of their responsibilities.
In addition, PCC has established teams of staff, faculty and administrators to make changes in policy and procedures related to complaints and grievances and to ensure that the college meets its improvement plans.
Read the Higher Learning Commission's analysis of Pima's monitoring report on the college's website by clicking here.