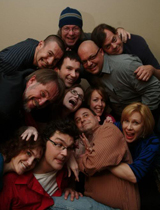 The cast of Not Burnt Out Just Unscrewed
Not Burnt Out Just Unscrewed is an improvisational comedy group that has been in Tucson for the past 11 years.
On stage, the group takes part in games and encourages the audience to interact with them, feeding off their energy as well as the energy of their peers.
Members Mike Pierce and Jessica Spenny describe the audience as an animal or monster that they try to make laugh.
"If the big monster out there is happy, you're happy and you want to keep going," Spenny said.
Pierce said the group approaches improvised comedy in a way that is similar to like the T.V. show "Whose Line Is It Anyway?"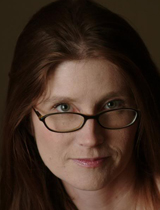 Jessica Spenny of Not Burnt Out Just Unscrewed
"We lift directly from that model," Pierce said.
NBOJU is currently trying to open up their own theater and grow their audience. The group has registered as a non-profit organization in the hopes of making this dream come true.
"We are trying to make the leap to permanence," Pierce said.
Pierce said that most people have been with the group for four or five years. He said that when they work together for a while there becomes an ease and familiarity about it.
"You learn each other's ebb and flow," Spenny said.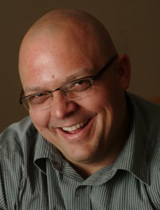 Mike Pierce of Not Burnt Out Just Unscrewed
She said improvising on stage has helped her learn to let go and outgrow her shyness.
"It's a freedom we don't have when we're walking around in our everyday human suit," Spenny said.
Pierce said that there are usually no rules to improv comedy, but members try not to give their partner something they can't work with.
"The one and only rule in improv is make your scene partner look good," Pierce said.
Listen to the interview, plus a short improv exercise by Mike & Jessica:
This web article was written by Mary Olivas, a student intern at Arizona Public Media.