(VIDEO: AZPM)
Individual Arizonans and many businesses are not prepared for disasters, natural or otherwise, emergency management officials warned this week.
Participants in the two-day annual conference of the Arizona Emergency Services Association held in Tempe said state and local governments are in good shape, but individuals don't pay the attention they should to being ready for disasters.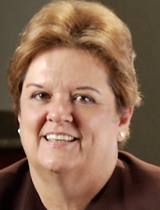 Nancy Ward, regional administrator, FEMA Region IX. (PHOTO: AZPM)
"I would say that's really our Achilles' heel - individual and household preparedness, business preparedness," said Nancy Ward, administrator for the Federal Emergency Management Agency's Region IX, which includes Arizona.
Ward and others made their remarks in interviews for Friday's Arizona Week broadcast.
She said Arizona governmental agencies rate "very near 10" when it comes to being prepared. But, she said, businesses and individuals need to make plans.
"Do (businesses) have a plan for notification to their employees? Do they have a plan to ensure that they can up and operational in an alternate space, if they need to?" Ward asked.
The same goes for individuals.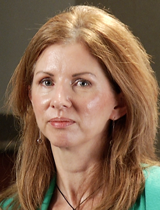 Wendy Smith-Reeve, director, AZ Division of Emergency Management. (PHOTO: AZPM)
"Do they have a communication plan?" she asked. "If parents are separated from children during the day, how would they communicate? Knowing the risks of their communities. What kind of risks do their communities have?"
Wendy Smith-Reeve, director of the state government's Arizona Division of Emergency Services , took it a step further.
"When was the last time you had a fire drill in your home?" Smith-Reeve asked, referring to the fact that children have them in schools regularly, but at home, people generally pay less attention to preparedness.
She referred people to her agency's website, the Arizona Emergency Information Network, or AZEIN, for emergency bulletins and step-by-step instructions for building emergency plans and kits.
"We encourage individual preparedness," she said. "It's critical that each individual is prepared to support their family in times of emergency and to be prepared with a plan, a kit and to be informed of what hazards they face within their communities. If they can take care of themselves and their families for at least a short period of time, that allows first responders to address the broader picture."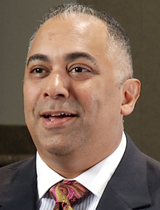 Lou Miranda, president, AZ Emergency Services Assn. and director, emergency management, Pinal County. (PHOTO: AZPM)
Lou Miranda, president of the state Emergency Services Association and emergency management director for Pinal County, said he has seen progress but knows more is needed.
"We've done a really good job of ensuring the preparedness initiatives are being brought forth to the community, but we could always do better," Miranda said. " ... We're doing better, but we've still got a little bit of ways to go. The message of preparedness still needs to get out there to our communities."
More than 100 emergency services officials gathered for the conference heard presentations from colleagues discussing cyber security, border and homeland security and planning for how to handle an "active shooter" scenario such as those that occurred at the University of Arizona College of Nursing in 2002 and former U.S. Rep. Gabrielle Giffords' congressional town hall in 2011.
The conference opened with an emotionl, hour-long presentation from Pruett Small, incident commander for the Granite Mountain Hotshot memorial service for 19 firefighters killed in the Yarnell Hill Fire in June. Small called the event "an incident within an incident" as he described the lengthy and complex logistics before a rapt audience.