Tucson Mayor Jonathan Rothschild wants to double the number of volunteers for a reading program in public schools as the state begins implementing a law that would hold back third-grade students who are not reading at grade level.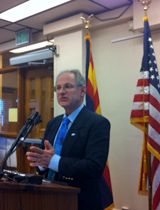 Tucson Mayor Jonathan Rothschild (PHOTO: Fernanda Echavarri)
Rothschild is asking the public to donate time once a week or money to the Reading Seed program to cover the costs of background checks and fingerprint fees for volunteers.
"The census and reading scores in the county show that there are about 18,000 kids K-3 who would benefit from a Reading Seed coach, and last year we were able to help less than 2,000 kids," said Betty Stauffer from Literacy Connects.
Reading coaches spend one hour a week each throughout the school year reading to students.
"There is a mutual bond that forms that is indescribable," said Ellen Graver. She volunteered at the school where her children grew up and said seeing a child's progress after the program is "the best part."
For information on how to participate in the Reading Seed Children Literacy program, visit the Literacy Connects website.