Listen: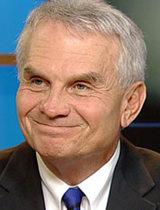 PHOTO: AZPM
Dave Sitton, former UA sports broadcaster.
Dave Sitton, a former play-by-play TV announcer for University of Arizona football and basketball, died Sunday, the UA Athletic Department reported. Sitton, who ran unsuccessfully in a 2012 special Republican congressional primary election, was 58.
He died of an apparent heart attack, the athletic department said in an announcement sent to supporters via email. Sitton was diagnosed with lymphoma eight years ago and underwent chemotherapy. Shortly after, he declared himself cancer free.
Sitton broadcast UA football and basketball games from 1990 to 2012, after earlier having been the Wildcats' baseball broadcaster. He also served as the university's rugby coach and was affiliated with the rugby team, first as a student player then as coach, for 39 years.
Tucson City Councilman Steve Kozachik worked with Sitton in athletics for more than 25 years.
"Everything about Dave was giving, just giving pack to people," Kozachik said.
Sitton won an Emmy Award for his basketball broadcasting in 2010 and for football in 2011. In 2012, Sitton was inducted into the Pima County Sports Hall of Fame.
Sitton ran as a Republican in a special primary election in 2012 to fill the seat in Congress left vacant when Rep. Gabrielle Giffords resigned. He got 17 percent of the votes, finishing last in a four-way race.
Retired Air Force Col. Kent Laughbaum supported Sitton in that Congressional race. He said that support came after years of knowing Sitton professionally through his community service work for veterans and the Davis-Monthan Air Force Base. They developed a personal relationship, Laughbaum said.
"Dave Sitton did more in months, in terms of service to mankind, to the nation, service to our state and definitely Tucson, than most people do in their entire lives," he said.
The Associated Press contributed to this report.