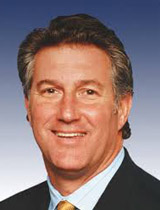 PHOTO: U.S. House
Former congressman Rick Renzi, R-Ariz.
Prosecutors Monday urged a federal judge in Tucson to reject former U.S. Rep. Rick Renzi's requests to reverse his convictions on public corruption, money laundering and other charges.
The U.S. Attorney's Office told U.S. District Judge David Bury that there was ample evidence to support the verdict.
Defense attorneys asked Bury to either acquit Renzi on his convictions or call a new trial. They said, in part, that the evidence wasn't enough to back up the verdict.
He was accused of using his office for personal financial gain and looting a family insurance business to help pay for his 2002 campaign.
Renzi, a Republican, represented Arizona's 1st Congressional District from 2003 until early 2009. He declined to run for re-election in 2008 while facing the federal indictment.
His sentencing is scheduled for Oct. 28.