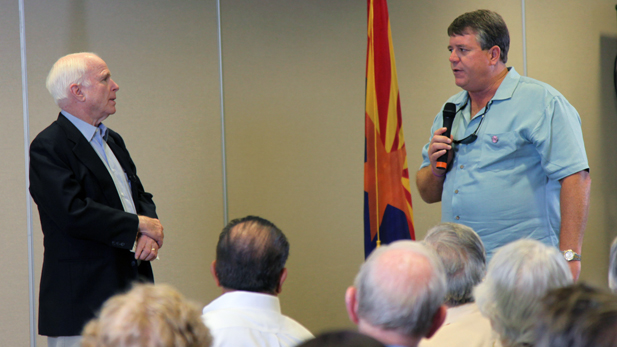 John Green asks John McCain to meet with him and his wife regarding efforts to strengthen gun laws. The Greens daughter, Christina-Taylor, was killed in the Jan. 8, 2011 Tucson shooting. (PHOTO: Andrea Kelly)
Listen
Immigration reform is a must to continue enhancing border security and provide a path to citizenship for 11 million people now living in the country illegally, U.S. Sen. John McCain said Tuesday.
McCain, R-Ariz., speaking at a town hall on Tucson's South Side, urged Arizonans to push the U.S. House of Representatives for passage of a comprehensive reform bill, such as what he sponsored and that passed the Senate in June.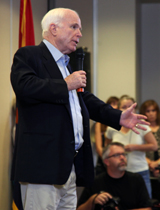 U.S. Sen. John McCain (PHOTO: Andrea Kelly)
"Now there are people in this room who will say, well but the border's not secure," McCain said. "The border is not secure. But it's a lot more secure than it was back in 1986 when we gave amnesty to 3 million people."
The issues of immigration reform and border security are critical, and Congress must work across party lines to find a way to fix the problems, he said.
"What I'm asking you is to consider that we have a unacceptable situation as it is today, and we need to all work together no matter where we are in the political spectrum to try to resolve that issue," McCain said.
He criticized immigration reform opponents, saying they don't have an alternative.
"I would respectfully ask the opponents of this legislation, 'What is your proposal?'" he said. "And the answer may be, 'Well, we don't trust Obama to enforce laws that we pass.' Well, that could be, but then we shouldn't pass any laws, if we don't trust the government to enforce them."
One of the political action groups lobbying for stricter gun controls asked supporters to attend the Tucson town hall and thank McCain for his vote to expand background checks for gun sales.
"We cannot have people who are mentally unstable have weapons in their hands," McCain said.
John Green, father of 9-year-old Christina-Taylor, who was killed in the Jan. 8, 2011 shooting, asked McCain for a private meeting. McCain said he would meet with the Green family to discuss gun laws, and added that Arizona is among the states hardest hit by mass shootings.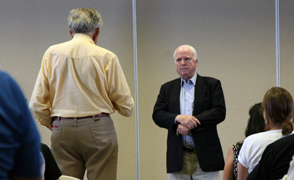 U.S. Sen. John McCain holds a town hall in Tucson Aug. 13, 2013. (PHOTO: Andrea Kelly)
In response to audience questions and comments, McCain discussed the federal fiscal situation.
"I don't know what's going to happen, but I do believe we're not going to shut down the government," he said. "I do believe that it's time the American people are heard. They want us to sit down together and avoid what's turning into every year or every two years what's turned into that we threaten people like you.
McCain said sequestration is not the answer because it requires across-the-board cuts, rather than targeting wasteful spending.
He also issued a mea culpa.
"In interest of full disclosure, I voted for it," he said of sequestration. "Dumbest vote I ever made in the Congress."