Listen:
The Tucson Modern Streetcar Project has included several art pieces by public artists.
These artists are creating public art for 22 of the streetcar stops, as well as its maintenance and storage facility.
A panel of local residents, artists, streetcar designers, and representatives from the City of Tucson and the Regional Transportation Authority selected the artists that participated in the project.
Cristina Cardenas, a Tucson-based artists with deep roots in Mexico, is one of the public artists who contributed to the streetcar project.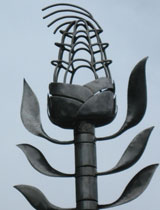 Photo courtesy of Cristina Cardenas.
"It will be interesting to know if I'm the first Chicana, Latina or Mexican artist selected for this public art," she says. "I think I am."
Cardenas won the commission for a unique public art installation at Avenida del Convento and Congress Street. Her piece features a metal kinetic sculpture of a maiz, which is imagery from pre-Columbian art, and the Latin American card game known as Lotería.
The artist works at a studio inside the Citizens Warehouse in downtown Tucson. The studio is filled with various projects in different stages of completion, with many of them including images of women.
"I'm trying to empower women (through my artwork)," Cardenas says. "...all (the) women (in my pieces) are very strong. In our (Hispanic) culture, women are the ones who carry the whole history of our towns and our people."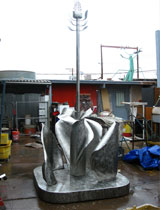 Photo courtesy of Cristina Cardenas.
Cardenas began to study art in Guadalajara, Mexico. However, she's been in Tucson for decades. She says she now navigates in a bicultural world.
"I'm exploring being Mexican...being an immigrant, and being a foreigner," Cardenas says. "I mean, I'm still not totally from here. And, the sad thing is, I go to Mexico and I'm not from Mexico (either). I left Mexico 20-something years ago...I have an identity issue in that regard."
As an artist with 'an identity issue,' Cardenas constantly explores what it means to be a woman living between cultures, and in the borderlands. In her latest series, she works with images of Pachucas, young Chicana women with distinct make-up and clothing.
Cardenas also works as an art teacher at a local charter school. She says the young Mexican American girls she sees there remind her of the identity struggles she, herself, has dealt with.
As a young artist, Cardenas says her work was heavily influenced by politics, as she was surrounded by immigration and border issues. However, she has evolved, and in recent years, her worked became more influenced by her personal experiences.
"It is my desire that every piece that I make is telling you a story...my story...the story of my community," Cardenas says.
She says her street car public art installation is nearly completed, and will be in place in the next few months.