Listen: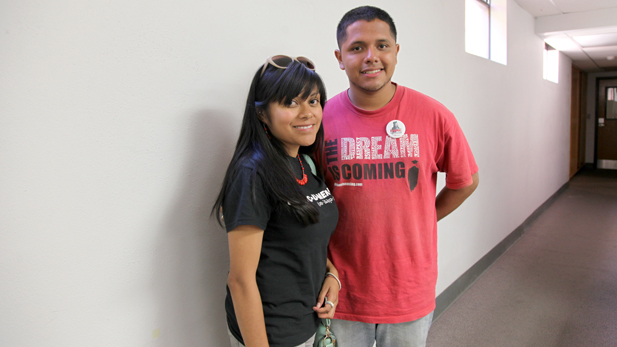 Lizbeth Mateo and Luis Leon are part of the "Dream 9" asking for asylum in the U.S. (PHOTO: Andrea Kelly)
On July 22, nine young adults born in Mexico but raised in the U.S. tried to enter the country without proper documentation in Nogales, Ariz. to call attention to undocumented youth in the U.S.
Some of the activists left for Mexico recently with the purpose of asking for asylum on their way back in, others left years ago trying their luck in their country of birth.
They were detained by U.S. Customs and Border Protection officials at the Morley pedestrian gate, and taken to the privately run immigration detention center in Eloy.
All nine submitted an application for humanitarian parole seeking asylum based on "credible fear" of persecution should they return to Mexico.
They were released two weeks later.
More than 40 members of Congress have either signed a letter or issued statements in support of the group of activists, urging President Barack Obama to grant them legal status in the country.
Immigration lawyers and other members of Congress have criticized the group's tactics.
Lizbeth Mateo and Luis Gustavo Leon are two of the "Dream nine."
Hear an interview with Mateo and Leon about their time spent in a detention center, solitary confinement, and hunger strikes.