Listen
Immigration reform has a 50-50 chance of passage this year because the U.S. House plans a piecemeal approach, rather than the comprehensive strategy of the Senate, U.S. Sen. Jeff Flake said Thursday.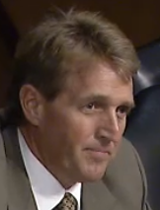 U.S. Sen. Jeff Flake, R-Ariz.
Flake, R-Ariz., and one of the Senate's "Gang of Eight" that pushed the bipartisan immigration approach through in June, was in Tucson to speak to a business group. Afterward, he discussed the chances for immigration reform.
"The House will pass something, and then the Senate can conference with that bill, and it can become a broader bill, so I think it can be substantive," Flake said. "The House, I think, their preference would be to do it piecemeal. And I don't know if that's possible."
If significant legislation does not make it through Congress this year, the odds become worse for it in 2014, an election year, Flake said.
The Senate's bill would toughen border security with tens of billions in spending for more fencing, more Border Patrol agents and technology. It also would provide a path to citizenship for the estimated 11 million people in the country illegally.
In the House, even tougher border security measures have been proposed, and opposition has arisen among Republicans to the path to citizenship.