Listen:
The rosy-faced lovebird is attracting a growing number of fans in the city of Phoenix, and surrounding communities, where where feral populations of this small colorful parrot have been spreading since the 1980s.
The lovebird is a popular cage bird in the United States and many other countries.
Troy Corman, an avian monitoring coordinator with Arizona Game and Fish Department in Phoenix, and a volunteer at Arizona Field Ornithologists, says he believes the lovebird population in Phoenix comes from ancestors that were intentionally released by their owners or escaped from a life in captivity.
PHOTO: Jim Van Housen
Other members of the parrot family have also gotten out of their enclosures or have been released in Arizona, but only the rosy-faced lovebird has been recorded as breeding and expanding.
These birds come from hot, dry southwestern regions in Africa with similar extremes in temperature and precipitation as Arizona. Although, their survival in the state has been attributed to artificial sources of food, water and habitat created by palm trees, and other plants introduced by human inhabitants.
The bird's body color covers a spectrum of green and blue hues, with brilliant peach and pink on their faces and upper chest, and curved white beak.
Their human fans are growing, including retired professional photographers James and Trish Van Housen. The couple lives in Apache Junction, which is located east of Phoenix.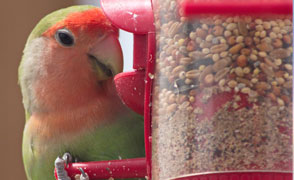 PHOTO: Jim Van Housen
The couple set up feeders with various kinds of seeds in their home's backyard to attract these birds.
"They're just beautiful, and I love the sound of their chirps...their little squawks," Trish says. "They're amazing. They make us both really happy."
Experts in Tucson say a few individual lovebirds have been sighted in recent years, but there appear to be no established colonies in Southern Arizona similar to the ones in the Phoenix area.
Officials encourage people to report sightings of the little parrot on the eBird website.
Greg Clark is one birding researcher who motivates the public to report sightings. He has been mapping birds since ___ when he started mapping Burrowing Owls with Wild at Heart.
"Today there is a Google map application that's on our website," Clark said. "In fact, all over the west, even in Minneapolis see the lovebird and end up at the website."
Jennie MacFarland with the Tucson Audubon Society said the Tucson bird count is the first of its kind that covered the entire urban Tucson valley.
"Tucson bird count is a big spring emphasis so it has a breeding bird emphasis," MacFarland said. "There's some other locations called park counts that happen four times a year but it's mainly a spring effort."