Listen:
Pima Community College will nearly double the size of its dental hygiene program in the next five years.
The expansion will be funded with a $3.24 million federal grant, said Joy Gall, director of the college's dental hygiene program.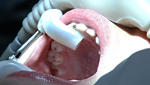 child dental procedure
"Right now, we have 13 chairs where we treat patients in the dental hygiene program, and the assisting program does radiology services as well," Gall said. "We would like to expand it to 25, possibly 23 to 25, and we would like to expand it so we can improve the environment that the students are treating patients in."
Colleges with more than 25 percent Hispanic population were eligible to apply for the grant. Those are classified as Hispanic Serving Institutions, and PCC exceeds the threshold because about 35 percent of its students are Hispanic.
"We're hoping to be able to accept and take in and train more Hispanic students for the community," Gall said.
The dental hygiene program works much like a cosmetology program. Students take the courses and gain skills in dental hygiene, and the public can come in for hygiene work at reduced prices, Gall said.
The grant-funded program expansion includes updated technologym covering the initial costs to enlarge the program.
"It pays for construction, it pays for equipment, supplies, some of the instruction for the faculty," Gall said. "We'll need to upgrade the background of the faculty because we'll be bringing in new equipment," Gall said.
Pima Community College will be responsible for ongoing operating costs, she said.