The final two workshops for public input on the San Pedro River resource management plan covering the next two decades will be held Saturday and Aug. 24 in Sierra Vista.
The San Pedro provides a unique oasis in an otherwise arid desert as the last undammed river in the Southwest. The river flows north out of the mountains of Sonora to its confluence with the Gila River in south-central Arizona. And along its course, dozens of species of mammals, birds and plants thrive.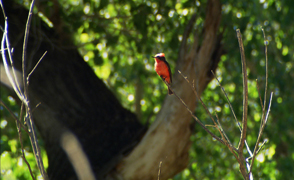 PHOTO: AZPM
One of the more than 100 species of breeding birds found in the San Pedro River Riparian National Conservation Area.
Part of the San Pedro in Arizona is protected by congressional decree. It was the nation's first Riparian National Conservation Area, designated in 1988.
The Bureau of Land Management oversees the 57,000-acre San Pedro River Riparian National Conservation Area, and is creating a long-term Resource Management Plan for it.
BLM officials have been gathering public input on the plan for several months, primarily through public meetings and educational workshops. The workshops were set up to address how the plan handles particular resources in the conservation area.
BLM spokeswoman Diane Drobka said the first public comment meetings in June showed an immediate need to go deeper on issues such as watershed and endangered species.
"What we were hearing from most of our audience is that, 'we want to learn more about this area, before we feel like we can comment and fully participate'," Drobka said. "So that's when we had the idea of developing these educational forums."
The next workshop will be Saturday, 9 a.m. to 3:30 p.m. at University of Arizona South, 1140 N. Colombo Ave. in Sierra Vista. The event is open to the public.
Saturday's forum will come in two parts. In the morning, the focus will be on how the management plan addresses cultural resources such as historical and archaeological sites. Recreation will be covered in the afternoon.
The last workshop, also at UA South, is scheduled for Aug. 24 and will address 'socioeconomic' resource issues in the management plan.
Drobka said public comments on the plan can be submitted at both workshops. When completed, the plan will govern resource issues in the San Pedro River Riparian National Conservation Area for the next 15 to 20 years.