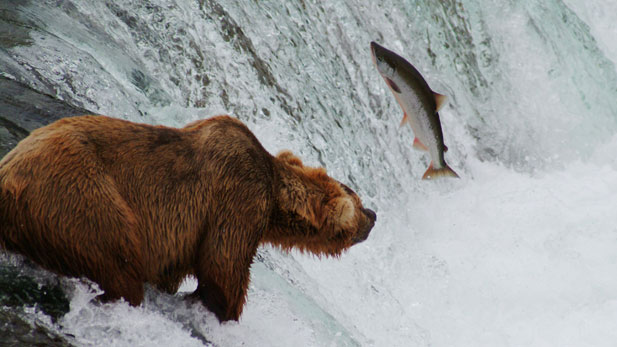 Katmai National Park and Preserve, Alaska.
The National Parks: America's Best Idea
, a six-part documentary series directed by Ken Burns and co-produced with his longtime colleague, Dayton Duncan, who also wrote the script, is the story of an idea as uniquely American as the Declaration of Independence and just as radical: that the most special places in the nation should be preserved, not for royalty or the rich, but for everyone.
Monday, April 25, 9 p.m.
The Scripture of Nature (1851 – 1890)
Examine the radical idea of creating national parks for the enjoyment of everyone.
Tuesday, April 26, 9 p.m.
The Last Refuge (1890 – 1915)
Investigate the efforts of Theodore Roosevelt, John Muir and others to preserve and protect pristine lands.
Wednesday, April 27, 9 p.m.
The Empire of Grandeur (1915 – 1919)
Learn about the federal agency created to protect the parks and the fight over the Grand Canyon.
Thursday, April 28, 9 p.m.
Going Home (1920 – 1933)
A look at the growing numbers of visitors to the parks and those who advocate for park expansion.
Friday, April 29, 9 p.m.
Great Nature (1933 – 1945)
Learn about the changes to the national parks during the Great Depression and World War II.
Saturday, April 30, 9 p.m.
The Morning of Creation (1946 – 1980)
Examine the proliferation of protected lands and the protection of predatory animals.