Listen:
Susan Gamble is the owner and artistic director behind Santa Theresa Tile Works. Since 1988 her business has designed and built public art installations in the community --each created with one-of-a-kind hand made ceramic tiles and mosaics that represent the culture and natural environment of the southwest.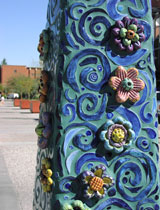 "It takes the right person to do public art," Gamble said. "You have to enjoy that public process."
Gamble said there's more competition for public art projects now, and fluctuations in the economy have forced her to modify her business model. She now relies on smaller projects but she said enjoys "the creative aspect of maintaining the business."
"Then you have to consider 'what is success in business?'" she said. "I consider it success because we're open, I have six employees, everyone has health insurance, and we have bad times and good times."
Gamble said it's her love of the timeless art of tile-making and mosaics that keeps Santa Theresa Tile Works in business.

"That's one of the things I like about it; that you can follow it back through geography and time," Gamble said.
Watch story on AZ Illustrated Arts:
(VIDEO: AZPM)