Listen:
U.S. Rep. Raul Grijalva said fliers supporting the recall of Sunnyside School District board member Daniel Hernandez were filled with hate speech.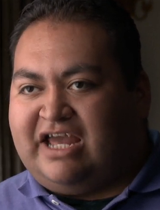 PHOTO: AZPM
Daniel Hernandez.
The fliers surfaced a few days ago and read, "Put a REAL man on the Sunnyside board."

Hernandez is openly gay, and one of the board's four members facing recall.
Grijalva said he wants an investigation into who is responsible for the fliers, which he said violate federal hate crime laws.
"You have the freedom of speech protection in the First Amendment to say those vile things, and to write those vile things," the Democratic congressman said. "The hate crimes law says, if those have a cause which endangers, threatens, jeopardizes the health and safety of individual or individuals, then it merits an investigation."
Following Grijalva's call for an investigation, the school district issued a statement condemning the fliers. Tucson City Councilwoman Regina Romero also issued a statement in support of Hernandez.