(VIDEO: AZPM)
Southeastern Arizona is a diversity hotspot for native butterflies, and is home to more than 250 species.
"It can only stay (a) hotspot if we keep providing what those organisms need," said Elizabeth Willott, butterfly curator at Tucson Botanical Gardens.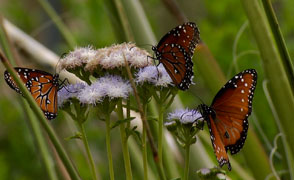 (PHOTO: AZPM Staff)
The botanical gardens and Tohono Chul Park entice butterflies with botanical displays with their favorite foods and habitat. These displays have also raised public awareness of how to attract native pollinators.
Native butterflies flit from flower to flower sipping nectar. Caterpillars munch leaves, and tiny eggs stick to stems. Jo Falls, director of education at Tohono Chul Park, said a recent butterfly survey revealed the presence of more than 30 species in the park.
To maintain those numbers, parks have to satisfy specific appetites.
"If you want the butterfly, you need the plants that feed the caterpillar," Willott said. "And many caterpillars are very picky eaters."
Queens and monarchs exclusively eat milkweed; Gulf fritillary caterpillars eat passion vine; and Pipevine swallowtails rely on pipevine, she explained.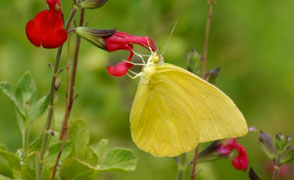 (PHOTO: AZPM Staff)
Butterflies are less picky about their food sources. They will drink nectar from a variety of flowering plants. However, without access to their larval food plants to lay the next generation of eggs on, these butterflies won't be around for long.
Butterflies breed year-round because of the climate. The best time of year to see them is late summer and early fall.
Willott is also a member of the Southeast Arizona Butterfly Association. She said the group is a place for people interested in butterfly conservation to meet.
SEABA recently helped create a butterfly identification guide for Tohono Chul visitors. The park will host weekly tours to admire them starting September.
Watch an in-studio chat with a couple of SEABA members, and learn more about the group:
(VIDEO: AZPM)