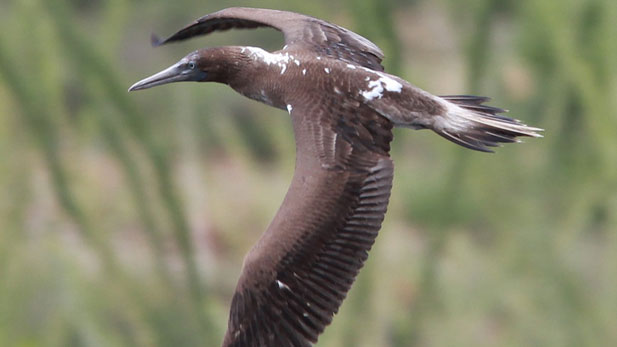 PHOTO: Laurens Halsey
Listen:
A blue-footed booby has been spotted at Patagonia Lake State Park.
These birds are known for their bright blue feet and odd mating dance. Their range extends from the Peruvian to the Panamanian coastline, and are also found in Baja California and on the Galapagos Islands.
State park officials and bird watchers are surprised to see a juvenile blue-footed booby at the lake, located in Southern Arizona, near the city of Nogales.
Laurens Halsey, a local bird guide, said the bird was first spotted in mid-August. Halsey said he went to the park the next day and photographed it.
"My buddies took off to look east and I went to go look west," he explained. "And, the bird just kind of flew up from the west end of the lake. It flew right past us. This part of the lake is very narrow so it was very close to us...(then it) started diving for fish. We just had a wonderful time with it."
Park officials said the bird's feet have not yet turned blue because the creature is young. The coastal bird was last sighted at the lake on Wednesday.
The news excited Halsey who said he'd like to go back to the park in hopes of seeing the male blue-footed booby again before it moves on.