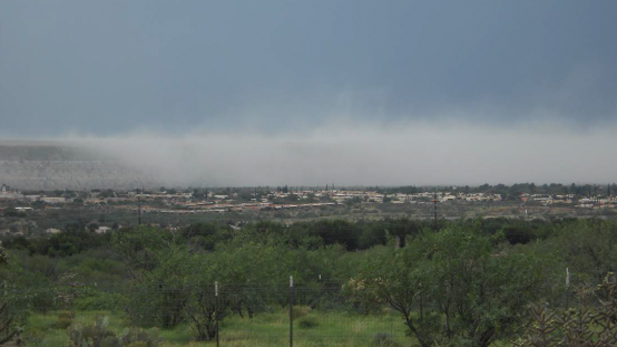 PHOTO: Pima County Department of Environmental Quality
Dust blows from Freeport MacMoRan mine tailings near Green Valley, Ariz., in July 2013. The incident led Pima County to issue a notice that the company violated air quality standards.
Listen:
Pima County issued a notice of violation to Freeport MacMoRan mining company for allowing dust to escape from its Sierrita copper mine site south of Tucson this summer.
During a wind storm, dust from the mine became noticeable to Green Valley residents, including a county environmental quality inspector. Some people began to file complaints, said Beth Gorman, a program manager at the Pima County Department of Environmental Quality.
The county looked into the complaints, and issued a notice of violation to the mine.
Mining companies are required to ensure dust does not leave the property, she said. Pima County requested records and reports showing Freeport MacMoRan's prevention efforts and then decided to issue the notice.
"We determined in this situation that Freeport MacMoRan did not take enough precautions to keep the dust from crossing their property boundaries," Gorman said.
The mining company has three weeks to respond to the county's notice, including a plan detailing the steps the company will take to prevent future air quality violations. So far, the county has not levied a fine against the company for the violation.
Read the Notice of Violation: View at Google Docs | Download File