Reports of child abuse and neglect, as well as the numbers of children in foster care continue to rise, but there is a glimmer of progress in Arizona's Child Protective Service.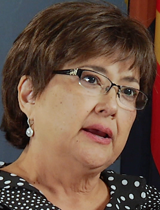 Flora Sotomayor, assistant director, Division of Children, Youth and Families, AZ Dept. of Economic Security.
The state's latest Semi-Annual Child Welfare report, covering the six months from October 2012 through March of this year showed a 1.4 percent increase in the number of children going into foster care and an 8.3 percent increase in the number of calls to the child protection hotline. Both numbers are significant declines from previous reports.
The Department of Economic Security also reported that the number of children reunited with their families rose 23.5 percent, turnover of caseworkers declined to the national average and visits to homes with reports of child neglect or abuse rose to 85 percent from 74 percent in one year.
That progress is tempered by consensus among childcare advocates, both in and outside the public sector, that much more must be done to ensure the safety and security of more children. Those advocates made their comments for Friday evening's Arizona Week broadcast.
"We continue to see an increase in the population of children who are entering foster care, as it has been for some time," said Flora Sotomayor DES assistant director of the Division of Children, Youth and Families.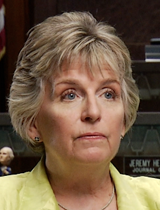 Arizona Rep. Kate Brophy McGee, R-Phoenix.
However, Sotomayor said, she sees "a good sign because we have embarked on process improvement for the past couple of years. We're finally starting to see the outcome, the results we were expecting."
She said the improvements are in reduced workload for caseworkers and other staff members, allowing them to focus less on paperwork and more on the key issues at hand, assuring child welfare.
Agreeing with Sotomayor is Rep. Kate Brophy McGee, R-Phoenix, co-chair of the Legislature's CPS Oversight Committee, with a caveat.
"CPS is doing much better than it was when I first arrived in the Legislature in 2011," Brophy McGee said. "That being said, with the effects of the great recession and the tragic consequence of the demand for CPS services going up even as the government's ability to pay for those services diminished, it resulted in cuts to CPS services."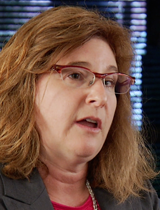 Dana Wolfe Naimark, president/CEO, Children's Action Alliance.
The Legislature has restored much of the funding, Brophy McGee said, and there is consensus about adequate funding.
"I am hoping we've gotten past the point of just throwing money at it. I know we have," she said. "But I also think that there's an understanding on the part of the conservative Republican Legislature and the governor that we make sure we fund it appropriately."
Yet, many aspects of child and family welfare remain unfunded, said Dana Wolfe Naimark, president and CEO of the Children's Action Alliance.
"Even though ... most of those budgets have been restored, we are far behind where we need to be to keep up with the needs in our community," Naimark said.
"What they did not restore - funding for child-care assistance, they did not restore funding for health care for children ... they did not restore funding for cash assistance or job training," she said. "So there's a lot of areas where families don't have places to turn for help, and sometimes that crisis turns into child abuse and neglect."
Information about adoption and foster parenting for Arizona children in crisis is available on the DES website, www.azdes.gov.