Pima County should wait until at least 2015 to seek voter approval of $550 million in borrowing for a wide range of projects, County Administrator Chuck Huckelberry said Monday.
"The financial picture isn't right for a bond election in 2014," the county said in a press release, attributing that conclusion to Huckelberry's analysis.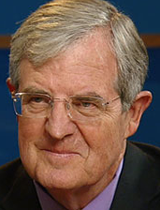 PHOTO: AZPM
Pima County Administrator Chuck Huckelberry.
Selling bonds on which it pays interest is how the county borrows money for capital projects such as road and building construction.
Huckelberry sent the county Bond Advisory Committee a memo saying the property tax base has not recovered enough to make a bond election practical before 2015, the press release said. The committee is expected to take up the issue at a public meeting Friday, beginning at 8 a.m. at the Arizona Riverpark Inn, 350 S. Freeway in Tucson.
Huckelberry is quoted in the press release saying the county's property tax base, which is used to pay off borrowing, is projected to be 23 percent lower in the next fiscal year than it was five years earlier. That is driven by a reduction in housing prices during and in the wake of the recession.
That, combined with the county's self-imposed cap on property taxes dedicated to pay off its borrowing, won't allow the county to borrow beyond current levels, Huckelberry said in the press release.
A $550 million bond election in 2015 or 2016 is possible, he said.
Additionally, the county may seek to borrow $50 million by issuing bonds for road repair work, with county municipalities offering up matching money to get their shares, he said.
"While this level of funding will not resolve the entire backlog of highway maintenance and repairs necessary in our communities, it will demonstrate our priority to make meaningful and timely repairs and improve maintenance of the local highway system," he said in the press release.
The county has been criticized for its record of spending on road maintenance, leading the Board of Supervisors to appropriate $20 million for a prioritized list of repair work.
Such criticism also has been leveled at the city of Tucson, where more than half the county's 980,000 residents reside. Tucson voters last November approved $100 million in borrowing via bond issue for street and road repair and maintenance.
Anticipating a 2014 bond ballot measure, the county earlier this year asked residents for input on what should be included in the bond election. Thousands of responses came in on a special county website.
To read more about the county bond program, go to its bond website here.