The arts contribute more than $87 million to the Pima County economy through ticket sales and trickle-down spending on things, such as dinner before a show, according to a report by the Tucson Pima Arts Council.
Compared to Maricopa County arts spending, as well as the national average, residents of Pima County attend more arts events each year, and spend more on them.
"That's a really interesting figure because...it says that we're bigger than the sports industry in our community, which I think is around $38 million," said Roberto Bedoya, executive director of the Tucson Pima Arts Council. "So, it says that, not only do we add to the quality of life to our community, but we have an economic impact."
The council arrived at the $87.7 million figure because it participated in two economic studies. One measured the amount the community spends on arts, the other looked at audiences and tourism related to arts, Bedoya said.
Artists Economic Impact
The economic impact of the arts goes beyond spending to participate in or observe the arts. Artists themselves contribute to the economy, said Kathleen Velo, a Tucson photographer and instructor at Pima Community College.
"I teach photography classes and my students spend a lot of money at Tucson small businesses buying materials, as I think a lot of artists do," she said. "I think a lot of artists prefer to buy local, so we really support a lot of businesses in the metro area."
Of the $87.7 million economic impact, Bedoya said $44 million is direct spending -audiences buying tickets. Arts organizations themselves spend $42 million a year in the community.
"Then we also have the economic impact of the attendees," Bedoya said. "We know that beyond the cost of admission to attending the cultural events, there is about $30 that is spent among the audience member, whether it's a babysitter, whether it's dinner, whether it's parking."
All of these figures show the direct financial impact of the arts on Pima County. There's also the social impact, Velo said.
"There's a non-measurable aspect of the arts," she said. "It helps create a community, and I'm not sure that a lot of big cities, or small cities, are well known because they have Raytheon or a university or an Air Force base, I think they become important on a human level because they have the arts."
Arts and Artists Feel Recession Effects
Listen:
Even though more people spend money on arts in Southern Arizona than in Maricopa County, the recession still took a toll on artists in the Tucson area.
Notably, it is harder for artists to make money showing their work, Velo said, who has an installment called Water Flow at the new University of Arizona downtown campus located on 44 N. Stone Ave.
"A lot of my colleagues who work in galleries, the galleries just aren't selling so they are no longer represented by galleries," she explained. "People can't go to concerts because they can't afford tickets, so I think a lot of venues have lost income because of that (as well)."
Beyond tickets and art sales, arts industry funding has also gone down, Bedoya said.
"I think the stress that this culture community has felt is that the recession has hit us very hard, public support has been radically reduced, private foundation is thinned," he said.
It's hard to say exactly how deep the recession has hit the arts, but Velo said when artists aren't making money, it's harder for them to spend money.
"Artists have less income, and we can't support local businesses or other artists," she said. "We can't support the economy either."
Velo's Water Flow photography project compares underwater photos of local water sources with water from the Central Arizona Project. It was funded by TPAC, and Velo said that's critical to helping the local arts economy recover and contribute to other sectors.
"I think by boosting support to the arts, it boosts the entire economy," she said.
Artists have to use their creativity to make ends meet, in addition to creating an end product, she explained.
"I think it's tough for a lot of artists because, unless we have another day job that pays well, it's always a struggle," Velo said. "And I think many people make their art, show their art, go through the creative process just as a labor of love, something that we're passionate about, so the economy has had an affect on the arts."
Despite the recession's toll on the local arts community, the Tucson Pima Arts Council has data showing people in this southern part of the state attend more arts events, and spend more money on the arts, than in Maricopa County. The same is true when Tucson and Pima County residents spending is compared to the national average.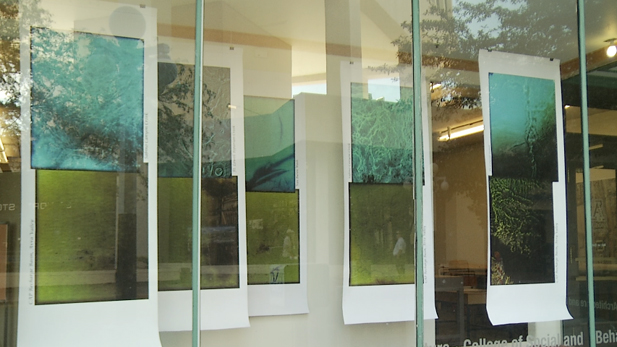 PHOTO: AZPM
Artist Kathleen Velo's "Water Flow" photography series compared underwater photos of local water sources with Central Arizona Project water.