Listen:
Anyone who's tried to keep up a lawn in the desert knows the amount of time, effort, and resources that it requires.
Now, imagine that if the lawn is nearly 400 feet long and 200 feet wide.
That's roughly the size of a high school athletics field.
PHOTO: Zac Ziegler
The lines are permanently painted on the field, moving the need for relining from every few weeks to every few years.
Understanding this makes it a bit easier to comprehend the logic behind switching those fields from natural grass to artificial turf. And Marana Unified School District did exactly that this summer at both of its high schools.
The change has plenty of people excited for many reasons.
Players are eager because many of the big name college and professional teams, including the University of Arizona, are playing on similar fields.
"Our kids, who are here now in the Mountain View program, are super-ecstatic," said Clarence McRae, Mountain View's head football coach. "They're excited that our school district would do this for our high school."
The possible savings is what thrills the school district's administrators, as the first big expense the schools will save on is water.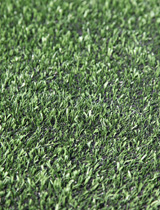 PHOTO: Zac Ziegler
The artificial turf fields look quite similar to real grass
While the fields do require some water to keep them cool, it's notably less than what it would be used on grass.
Because of the construction, Mountain View didn't have to water its grass over the summer.
"We've seen, over June and July, that we saved (more than) $8,000 in water in just those two months," said Dan Contorno, MUSD's chief financial officer.
Then there's upkeep. The schools have to pay third parties to come in and maintain the grass. Artificial grass means no mowing, reseeding, reapplying lines, spreading mulch and manure, or aerating.
Artificial turf also avoids a process known as re-crowning.
Fields for football or soccer are actually built with a peak in the middle to allow better water drainage, kind of like a roof on a house, only with a lot less pitch. That pitch goes away over time and has to be redone every six or seven years.
Redoing that pitch is called re-crowning, and it's quiet expensive. Mountain View's field needed this, and it was going to cost them $425,000, Contorno said.
So, while these artificial fields require a large upfront investment of about $1 million each, they can help the schools save money.
The district estimates they will save an average of around $130,000 per year. That means the fields would pay for themselves, and then some in 15 years. They're expected to last about 20 years.
There's also talk that these fields could be safer.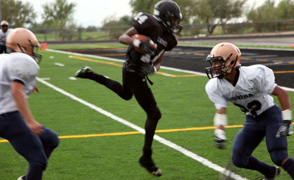 PHOTO: Zac Ziegler
Since holes and bare spots no longer develop on the field, athletes have less worries of injury.
"This is a pure surface. You're not going to find, as the season wears on, the holes and the places where it's been worn down," said Todd Garelick, Mountain View's associate principle and athletics director. "We're not going to have that issue, so you're going to have fewer twisted ankles and knee injuries that you'd have had in the past from uneven surfaces."
If installed and maintained properly, there's no worries of holes with artificial turf.
The material itself also feels softer and it has more spring, which means athletes will be hitting ground that is softer than typical grass.
"It's a fast surface, and it has a lot of give in it, which helps the kids out," McRae said.
And it's not just football players who are safer and enjoying the field.
The lack of wear and tear on the field means other students and people, such as the community's Pop Warner team, or the Broncos, can use the field too.
"...the (marching) band (is able to come) out here, soccer (teams), and the community (too)," Garelick said. "And...smaller teams like the Broncos can come experience what it's like to be on our field."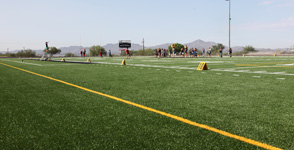 PHOTO: Zac Ziegler
Because artificial grass does not show the wear and tear that regular grass would, more groups (such as Mountain View's marching band) can make use of the field.
The citizens of Marana voted to fund the projects.
"We were fortunate enough to have the support of the community with bond proceeds," Contorno said. "They passed a bond in 2010...(to) upgrade athletic facilities in the school district."
Because MUSD received the voter-approved funds, they were able to redo both Mountain View's and Marana High School's fields with the new turf.
The schools now join others trying out artificial turf such as Vail's Cienega High school and Tucson High Magnet School.
The upcoming years will help figure out if these fields are safer, less expensive, and more water conscious.