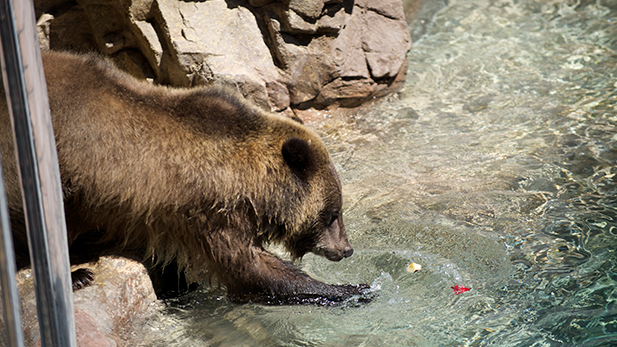 PHOTO: Yoohyun Jung
Finley, the sister grizzly bear, tries to catch slices of strawberry and banana in the stream.
Listen:
A new grizzly bear exhibit opened at Reid Park Zoo Thursday.
Ronan and Finley, the brother and sister orphaned cubs from Montana, were rescued and brought to Tucson in July.
Vivian VanPeenen, the curator of education at Reid Park Zoo, said the bears were rescued because of their troubled mother, who later was killed after experts concluded she was a public safety hazard.
PHOTO: Yoohyun Jung
Finley, the sister, is looking for treats on the ground.
The mother, according to VanPeenen, displayed dangerous behavior, such as breaking into buildings to eat livestock, going into chicken coup and eating all the chicken, and eating garbage out of human's garbage cans.
"[She was] doing all sorts of things that were dangerous to her because she could be shot by farmers or people who were feeling threatened by her, and [also did things that] were dangerous to humans," VanPeenen said.
After their mother's death, the now-orphaned Ronan and Finley were brought to Tucson. VanPeenen said the zoo staff are working to train them out of their behavior, but training them will take a very long time.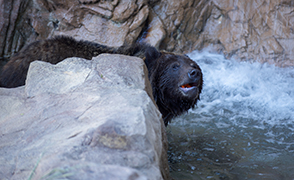 PHOTO: Yoohyun Jung
Ronan, the brother, is taking a cold bath.
"Their training will go on through their entire lives," she said. The bears must learn to live in a zoo environment and to co-exist with humans.
VanPeenen said when training the siblings, the trainers only use positive reinforcement. They do not use the word, "no."
"We ask them to do something like show us a paw or open your mouth and when they figure out that behavior, we give them a reward," she said. "If they don't do what we want, we just ignore it, or if they do what we don't want, we just ignore it.
Ronan and Finley are the first grizzly bears to call the Reid Park Zoo home.
Yoohyun Jung is a University of Arizona journalism student and apprentice at Arizona Public Media