Listen:
Two residents from the Tucson area are getting ready for the trip of a lifetime.
They are preparing for a journey to China this October, where they'll partake in a competition against dozens of other participants who will be tested on their knowledge of the Chinese language and culture.
Jose Gonzalez has been attending Accelerated Learning Laboratory in Tucson and Anne Zlatow is enrolled in BASIS Oro Valley.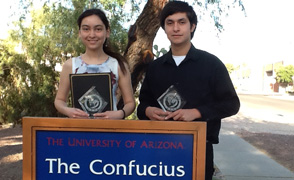 Anne Zlatow and Jose Gonzalez. (PHOTO: Jeff Zlatow)
Both are taking Chinese in their respective schools, but the two are also students at the Confucius Institute at the University of Arizona, which helped prepare them for a regional competition in California earlier this year.
Out of dozens of students, Gonzalez won first place and Zlatow came in second.
"I like how the characters can symbolize ideas and the meaning of words and it can show a picture within itself," Zlatow said.
To Gonzalez, speaking Chinese became an exciting linguistic and personal adventure.
"I felt like I was flying whenever I spoke Chinese and the more I spoke it the more I loved it and the more I continued to learn the more I pushed myself, the more I just wanted to keep going," he said.
Language teacher Ying Yuan said she is very proud of the students and she is thrilled to be working with them as they move on to the international phase of the competition.
"I learn from them," she said with a smile. "They can improve my English so we learn from each other. I think it's very good."
Ying Yuan moved to Tucson in 2012, and she's working with people of different backgrounds and ages at the Confucius institute.
The institute is one of hundreds that has been built around the world. The second annual Chinese Culture Festival runs until Saturday Sept. 28, and encompasses many activities such as music, language and health.