U.S. employers cannot fill the technical jobs they have open with the domestic workforce, so they need broadened rules to allow in more foreign workers, a Tucson lawyer says.
"There's just not the skilled labor here," said Oscar Lizardi, a partner at Rusing Lopez & Lizardi who specializes in the legal complexities of getting skilled workers into the country for his employer clients.
Lizardi said in an Arizona Week interview that technology is driving demand in engineering, information technology and other high-skill areas, and there are not enough workers in the domestic labor pool.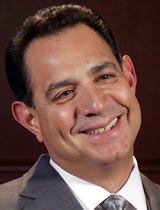 PHOTO: AZPM
Oscar Lizardi, lawyer specializing in immigration for employers.
"This is kind of a misnomer with respect to the public," he said. "They say, well, most foreign workers come in and take jobs from U.S. citizens and drive wages down. That's just not accurate."
The law requires employers to certify that before importing foreign workers, they advertise for the skilled workers they need, without success, Lizardi said. He said the law also requires employers to certify that they will pay foreign workers the prevailing wage or higher for their industries.
"I represent a French aerospace company," he said, citing an example of a business that must bring in foreign workers. "The aerospace industry is very specialized. ... They'll bring in engineers that have worked all over the world into the United States. These are highly skilled engineers. They come in to manufacture, help design and market these products in the United States."
The immigration reform proposal now in Congress takes the system in the right direction to provide needed workers to grow the economy, Lizardi said.
"The new immigration law that's before the House of Representatives right now ... (is) focusing on STEM - science, technology, engineering and math," he said. "So where you see the positions here in the United States that employers cannot fill is in those technology areas."
Passing the law and expanding the ability of businesses to bring skilled workers into the country will boost the economy, Lizardi said. He cited a non-partisan Congressional Budget Office report that showed the law would help reduce the federal deficit by $1 trillion in 20 years and add 3.3 percent to the gross domestic product in 10 years.
He said that under current immigration quotas and laws, a 10-year wait for an entry visa is "just not acceptable, and it's an issue that needs to be addressed."