Listen: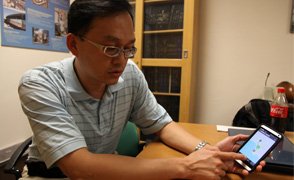 PHOTO: Laura Palmisano
Yi-Chang Chiu explains how his new app will work.
A University of Arizona researcher invented an app hoping it will help people change their driving habits and avoid traffic jams.
Yi-Chang Chiu said the concept for his Smartrek app is to encourage drivers to take alternative routes or leave at different times to reduce roadway congestion.
"The user of our app will enjoy better travel, less congested travel time and other people will also benefit for those people actually taking themselves out of rush hour," he explained.
Smartrek is set to launch early October in the Los Angeles and Phoenix metro areas. It will be available for both Android and iPhone users free of charge.
Chiu said he hopes to have it available for Tucson drivers by the end of the year.