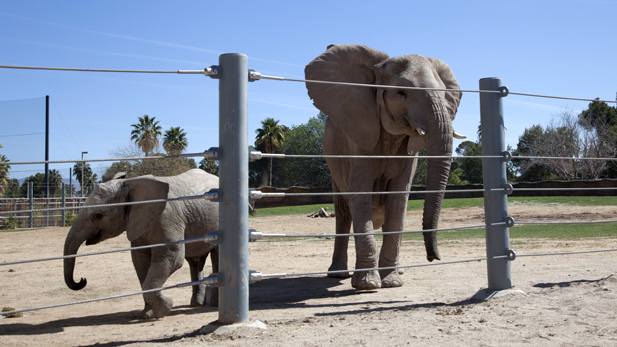 PHOTO: Kelly Hultgren
Semba and offspring Sundzu at Reid Park Zoo. Semba gave birth to a female calf Wednesday night.
Listen:
The elephant family at Reid Park Zoo is growing. The zoo's 24-year old African elephant Semba is pregnant.
Zookeepers said Semba and the zoo's male African elephant, Mabu, bred last October, and a recent urine test confirmed the pregnancy.
Vivian VanPeenen, the zoo's education curator, said this was one of the original hopes for the group of elephants.
"We had the anticipation that there would be, hopefully, a pregnancy and a birth later, and apparently, it happened pretty quickly," VanPeenen said.
Semba is one of five elephants Reid Park Zoo received from the San Diego Zoo last year for the opening of Expedition Tanzania. Semba, Mabu, and their offspring Punga and Sundzu came to Tucson along with another female elephant named Lungile.
Semba is expected to give birth in late June or some time in August.
Kayla Samoy is a University of Arizona journalism student and apprentice at Arizona Public Media.