Listen:
Frank Tavares has a recognizable voice, if not a recognizable name.
He is the voice behind the hourly-or-more underwriting credits on NPR programs, including Morning Edition, All Things Considered, and Science Friday.
But he's moving on soon, and off the air. NPR announced this summer it was looking for a full time "voice of NPR" to read underwriting credits. The new position requires full-time employment at NPR's Washington, D.C. office.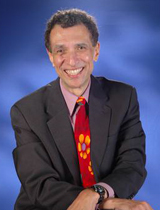 (PHOTO: Rich Glinka)
Tavares won't miss the emergency calls when funding credits need to be changed at the last minute, he said, or not being able to go on vacation without taking the contact information for the nearest member station for the same reason.
The funding credits are recorded in groups of three, hundreds at a time, once a week. Generally, what's on air now was recorded about a week and a half ago, he said.
He became a recognizable voice almost by accident.
"It was almost literally: who's passing by in the hall and let's see who has the flexibility to pop in the studio," and, he said, perhaps more importantly, the voice had to be someone listeners wouldn't know from elsewhere, someone "who is not one of the voices in any of the news programs."
Tavares lives in Connecticut where he's a full-time communications professor at Southern Connecticut State University, and a writer. He's just published a book of short stories, and plans to publish a novel.
"If I won the lotto and i was able to quit all of my day jobs I think I would just write full time," he said.
The new voice will begin to transition into the on-air job in October, Tavares said, leaving him more time for what he loves.
"I like my day job, I enjoy that, and I like the writing that I get to do" he said.