Listen
The number of wild California condors in Arizona will grow as of 11 a.m. on Saturday.
The Peregrine Fund plans to release three California condors into Vermillion Cliffs National Monument.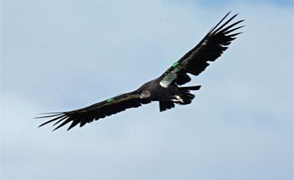 This species calls the western high deserts home, staying mainly in Arizona, Utah, California and Mexico.
There are 431 of the very large bird left in the world, which is a significant jump since 1982, when only 22 of the birds were left and none were in the wild.
"The release of these three birds will bring our population to 72 individuals in northern Arizona and southern Utah," said Chris Parish, who is coordinating the release for the Peregrine Fund. "That brings us just under half way to our total goal. We'd like to have 150 birds in this population."
Those heading to the Flagstaff area can view the release. Directions to the best lookout point can be found on Arizona Game and Fish or the Bureau of Land Management's websites.