The University of Arizona is the No. 1 source nationally for engineers for all four of Raytheon Co.'s business divisions, a company spokesman says.
John Patterson, senior manager for communications for Raytheon Missile Systems, said this week in an interview for Friday's Arizona Week broadcast that Raytheon Missile Systems, based in Tucson, counts heavily on the UA for engineers, and he added that the same goes for the company's other divisions across the country.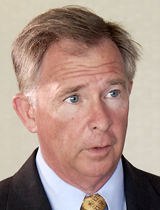 PHOTO: AZPM
John Patterson, spokesman, Raytheon Missile Systems.
"You probably don't realize this, but Raytheon as a corporation - I'm talking about the entire corporation, not just Raytheon Missile Systems in Tucson - recruits the bulk of its engineers from the University of Arizona," Patterson said. "The U of A prepares its engineers very well. They provide them with the skills they need to be able to come to work for us."
That helps the company, he said, describing what he called a "talent war" with other defense contractors seeking engineers and other highly skilled employees with the same needs.
That means Raytheon, which employs nearly 12,000 people at its Tucson operation - half of them engineers - needs more skilled workers.
"We're always on the lookout, and we sometimes have hundreds of jobs at Raytheon Missile Systems that go unfilled because we can't find the talent," he said.
Raytheon and the UA have a partnership that allows its engineers to work as mentors and guest lecturers on campus and to invite student engineers to the South Side plant as interns and observers.
At the same time, the American school system lacks adequate education in the STEM subjects - science, technology, engineering and math - to be able to provide needed workers for the future, he said.
"It's a real problem if China and India are graduating more engineers than the United States," he said. "That's a danger to our nation. Our technological edge in the world is at risk. That's why we're such proponents of this. It's why we're reaching not only to middle schools, but to elementary schools for students who have aptitudes in math and science."
He said it is good that educators in the K-12 system recognize the need to push the STEM subjects and find students with aptitudes in those areas.