Listen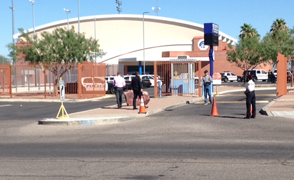 Main gate entrance to Catalina High Magnet School. (PHOTO: Andrea Kelly, AZPM)
A 17-year-old student was arrested Tuesday, accused of threatening another student at Catalina High Magnet School with a gun that shoots plastic pellets, police said.
All students, faculty and staff were reported safe after the midtown Tucson school emerged from a four-hour lockdown, police said.
Tyler Renfro brought the "Airsoft Gun" to campus, said Tucson police Sgt. Chris Widmer. The teen was booked into Pima County Jail on one count of aggravated assault with a deadly weapon and participating in a street gang while committing an aggravated assault, Widmer said.
A school official called police shortly after 8 a.m. to report a student on campus with a gun. The school went on lockdown and students were moved to safe places inside, Widmer said.
The lockdown followed Tucson Unified School District procedures, and meant students and teachers stayed in their classrooms, turned off the lights, and awaited further instruction, said district spokeswoman Cara Rene.
Police had barricaded streets around the school and began a search of the neighborhood, along East Pima Street, east of Alvernon Way, near North Dodge Boulevard.