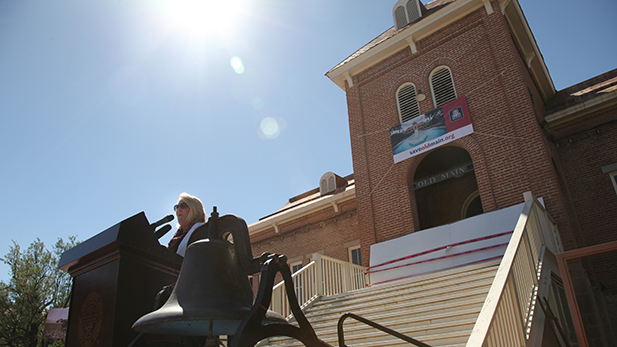 PHOTO: Yoohyun Jung
UA president Ann Weaver Hart speaks at event to raise money for Old Main renovation.
Story by Yoohyun Jung and Kayla Samoy
Listen:
The University of Arizona hosted a kickoff event Tuesday to raise money for the Old Main building renovation project.
OId Main is one of the oldest buildings in the state of Arizona at 122 years old, and the first university building. Tuesday was the 122nd anniversary for first day of classes at the building.
University President Ann Weaver Hart said the building had already started falling apart a few decades back, and was scheduled to be demolished in 1938, but because of the historic value of the building, the university is now working to renovate the building.
"It actually was falling down," Hart said. "The foundations were damaged; the roof was getting ready to collapse and needed to be replaced."
The goal of the "Save the Old Main" campaign is to raise $13.5 million to fully reconstruct the building.
"We looked carefully into the difference between the cost of doing the renewal and doing the renovation activities versus tearing it down and trying to build it over again," Hart said. "And it's half as much as it would have been to build new."
The renovation for Old Main began in January this year and will continue until April next year, according to the UA planning, design and construction department.
Yoohyun Jung and Kayla Samoy are University of Arizona journalism students and apprentices at Arizona Public Media