Artist Cirsten Carle was in her 20s when she first sought help for recurring bouts of depression.
"That was sort of in the beginning of when people started using antidepressants," Carle recalled. "And it was in the dark ages, and you didn't tell people you were on an antidepressant."
But despite the stigma surrounding mental health care, and her own resistance to the idea of taking psychiatric medications, Carle continued her counseling and soon began a drug regimen recommended by her counselor.
Listen to the radio version:
Over the next 25 years, Carle managed her mental health with a variety of drugs—including several antidepressants and, for a seven-year period, a powerful antipsychotic medication. But she said she didn't truly feel happy or healthy, and she began to wonder if there was a different way to wellness.
"I started getting very bad physical side effects over time," she said. "And it was because of the physical side effects" that she started to seek an alternative.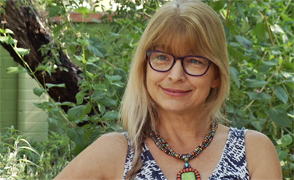 Artist Cirsten Carle says she found new wellbeing and confidence through integrative mental health treatment.
Through an acquaintance, Carle found a Tucson psychiatrist, Dr. Mary Ackerley, who practices integrative psychiatry. Integrative psychiatrists combine conventional therapies with complementary and alternative medicine to provide holistic mental health care.
Carle said her experience with integrative psychiatry differed markedly from her previous experiences.
"My first consultation ... was a 2.5 hour consultation," she explained. "It's not like a mainstream, 'Here, take this, because you are this.' This is more like 'Who are you, and what do you need?'"
This holistic, person-centered approach is exactly what drew psychiatrist Pamela Pappas, owner of the Scottsdale, Ariz. practice Optimal You, away from mainstream treatment and into integrative practice.
"Integrative psychiatry really is healing-oriented psychiatric medicine that includes the bio-psycho-social part of all of us—the mind, body, spirit and emotions," Pappas said. "Which is very different from how I was trained in general medicine and psychiatric medicine during my medical school and residency years."
Traditional training focused on one-size-fits-all "fixes" for mental health issues, Pappas said, instead of partnering with patients to help them find their own way to wellness.
Disillusioned with conventional psychiatry, Pappas decided to change her practice—to train in homeopathy and other alternative approaches, and to combine those therapies, lifestyle changes, counseling and, when needed, psychiatric medications to help her clients find health and happiness.
Not everyone supported this shift, she said.
"When I decided to make a change in my way of practice ... I had to tell the academic department I was employed by that I had decided to do this, and they, of course, thought I was nuts," Pappas recalled.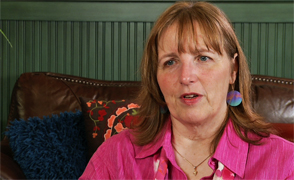 Psychiatrist Pamela Pappas says disillusionment with conventional psychiatry led her to adopt an integrative approach to mental health care.
Integrative psychiatry has since gained more mainstream support. Since 2004, the American Psychiatric Association has included a caucus on integrative medicine to further medical and public understanding of integrative psychiatry, and its membership is growing.
But its effectiveness compared to conventional treatment isn't well-studied, Pappas said, and its practitioners are still few. Their services aren't always covered by medical insurance, leaving patients to pay, in whole or in part, out of pocket.
"I'm hoping that when things shift with what people are calling 'Obamacare,' that more people will have some coverage and be able to utilize that," Pappas said. "I would like to be able to arrange things so that everything is paid for and everything is covered, and the kind of care that everyone needs is provided."
Carle said finding the kind of care she needed transformed her life.
In the care of her integrative psychiatrist, Carle transitioned from the medications she'd been prescribed for decades to a regimen of supplements and counseling. Integrative psychiatry helped her find a new sense of peace and empowerment, she said.
"It's brought me to a place of confidence to make decisions about what I want," Carle said. "I've just learned so much, and so I go into life, I would say, more heartfelt."