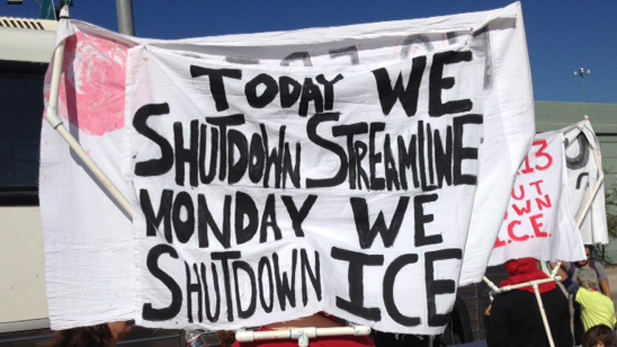 People protesting Operation Streamline.
Listen:
Today some of the people who shut down Operation Streamline federal court proceedings in Tucson Friday plan to protest outside the Immigration and Customs Enforcement office in Phoenix.
The effort is an extension of the Friday protest in Tucson, led by the group Not One More Deportation, meant to bring attention to deportations, and also to make a point about immigrants' roles in society, said Marisa Franco, a Tucsonan attending today's protest in Phoenix.
"Ultimately our presence in this country is not a threat. Our culture enriches this country," she said. "We should be respected as such."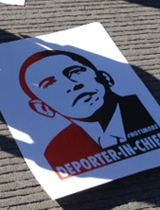 This would be the latest in a string of protests and events meant to draw attention to the country's immigration laws.
Last week, U.S. Rep. Raúl Grijalva was arrested in Washington, D.C. as he participated in a march to bring attention to the nation's stalled immigration reform efforts.
Also last week, Tucson immigration activists protested a traffic stop Tucson Police made. Officers pulled over a vehicle for not having a properly-lit license plate at night, and dozens of people came to the scene to protest the officers' calling Border Patrol to check the driver and passenger's immigration status, after the two could not provide proof they are in the country legally.
Tucson Police Chief Roberto Villaseñor said the officers were required by law -the controversial anti-undocumented immigration law known as SB 1070- to contact immigration officials.
All of these incidents prove that police officers are in a tough spot on immigration matters, Villaseñor said.
"We are absolutely in a difficult place, but we are going to continue to enforce the law and follow the rules," he said.