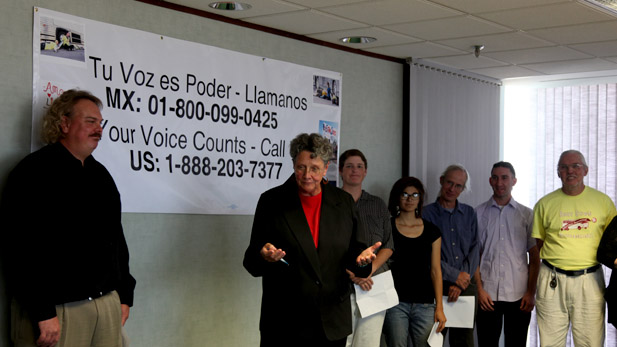 Margo Cowan, attorney in the Pima County Public Defender's Office (PHOTO: Fernanda Echavarri, AZPM)
Listen:
Immigrant rights activists who were arrested during a protest Oct. 11 are challenging the charges against them with legal help from the Pima County Public Defender's Office.
The group was charged with a felony for hindering prosecution, said Margo Cowan, a public defender and activist in Pima County.
The protestors stopped two buses with detainees on Frontage Road near downtown Tucson, locked themselves to each other and around the wheels of the buses preventing the detainees from arriving to federal court. Because of this, the detainees didn't make it to court, and the deportation proceeding known as Operation Streamline was canceled for the day.
"There are certain elements that the state must prove to make a case for hindering prosecution," Cowan said.
The detainees inside the buses were not prosecuted that day, and instead were deported immediately, she said.
Cowan has the names of all people inside the buses who were expected to appear in court Oct. 11, and said she needs to get details about their past and location because it is necessary for the case against the protestors.
Cowan did not specify how information from the deportees would affect the case of the protestors.
Two hotlines have been set up, one with a Mexican phone number, to collect information about those deported shortly after the protest.