Listen
Voters in Vail will see iPads instead of signature roster books when they vote at the polls Nov. 5, according to Pima County officials.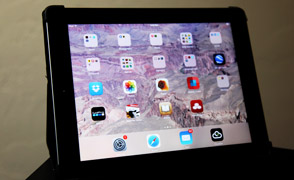 PHOTO: Fernanda Echavarri, AZPM
iPad tablet
The pilot program is designed to make voter identification faster by scanning a voter's drivers license with the iPads, said Brad Nelson, elections director at Pima County.
There is no cost to the county for the pilot program, Nelson said, because a private company is providing the equipment.
Vail has 7,000 registered voters, not enough to see if the pilot program could be implemented countywide, but Nelson said the county will test it during next year's state and federal elections.
The polling places in Vail will no longer have electronic ballot scanners at every precinct, instead voters will drop their ballots into a secure box "that is under observation at all times by poll workers, and then secure transported to a central tabulating facility," according to county officials.